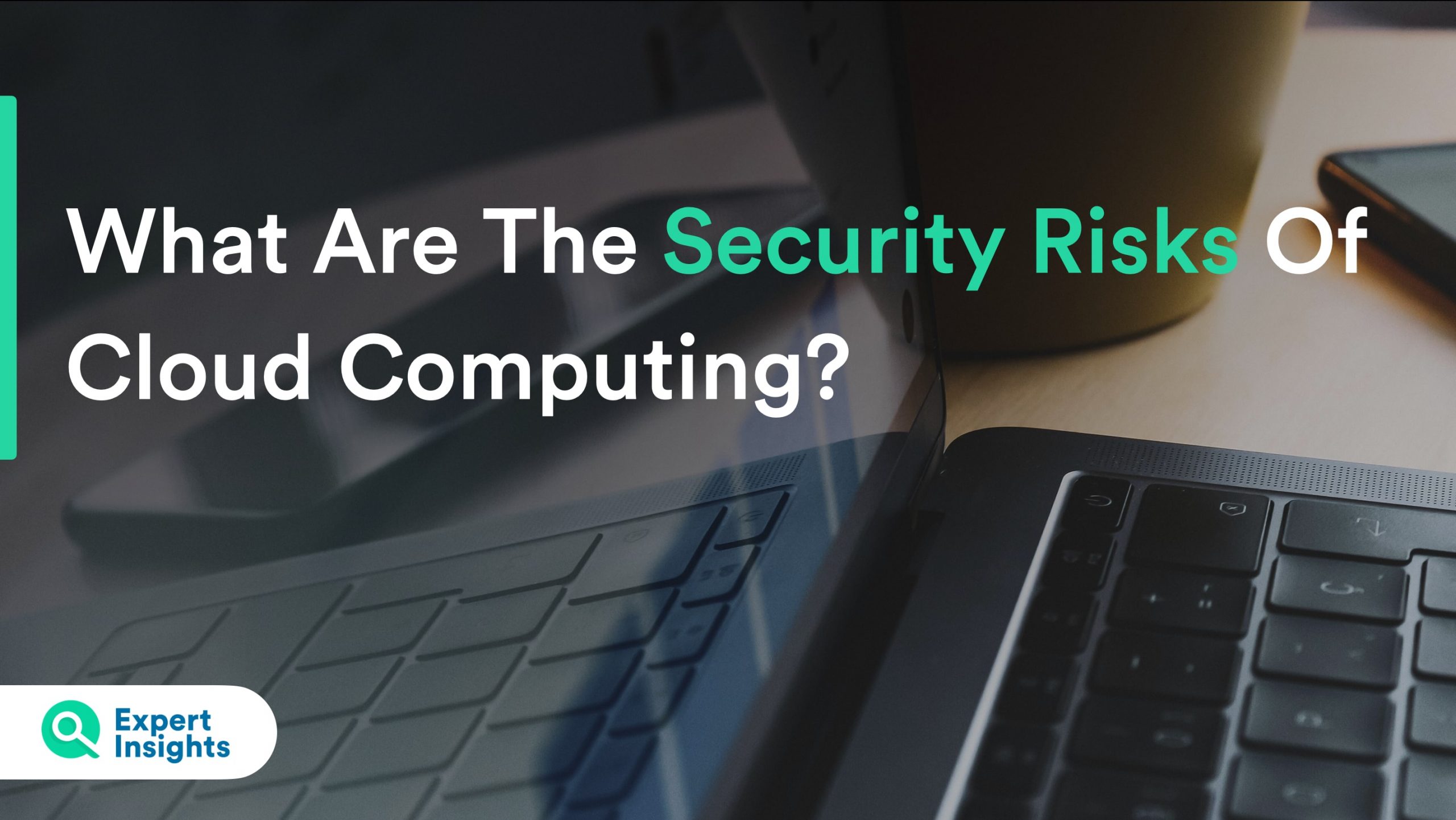 Blog
What Are The Security Risks Of Cloud Computing?
What Are The Top Cloud Security Risks Affecting Businesses, And How Can You Avoid Them?
Expert Insights / Apr 26, 2021
By Mirren McDade
What Is Cloud Computing?
Cloud computing is the delivery of computing services over the internet, including servers, databases, storage, software, networking, analytics, and intelligence. This means that, instead of storing information and files on a local computer or network, you can access these things from any device, as long as you can get online. For a variety of reasons – reducing cost, increasing productivity, speed and efficiency, security, performance, flexibility, and increased collaboration between employees amongst them – cloud computing has become the dominant option for people and businesses.
For small and midsize business (SMBs) in particular, the adoption of cloud computing is rising quickly, and it's not hard to explain why. The cloud enables businesses to access application software via high-speed internet connection, removing the need for businesses to invest in expensive computer software and hardware. It is expected that 69% of SMB workloads and 67% of data will reside in a public cloud by the end of 2021.
Cloud computing certainly has had a significant impact on the way SMBs use IT. As an example, with cloud computing, smaller companies have been able to access high-end technology and information at an affordable cost. Before cloud computing, companies would need to budget to buy hardware (servers and network equipment) and software (security suites, operating systems, productivity programs). But with cloud computing, businesses can tap into shared resources without extra cost, or the need to free up office space. A massive 90% of companies will be using cloud services by 2022 according to Gartner, generating a total market value of $278.3 billion.
That said, with all the speed, innovations and efficiencies that come with cloud computing, moving to the cloud does open a new set of potential risks. As secure as cloud computing may be – with the highly sophisticated security tools and resources many cloud providers put in place – there are still tangible risks at play that businesses should be prepared to face.
Some Common Risks Of Cloud Computing
Data Security / Privacy
Data protection and privacy are often viewed as key risks to consider when storing information in the cloud. When confidential information is hosted by cloud service providers, there is an inevitable transfer of control over the end user's security and privacy to the cloud vendor. Risks to data hosted on the cloud can include:
Loss or damage, either by the service provider or their staff
Information accessed or disclosed to unauthorized parties
Your service provider being targeted through malicious activities (hacking or viruses)
Weak security practices, leading to data breaches or leaks
When confidential information is shared with an outside party, there is always some risk involved, so it is good practice for cloud computing users to ensure the provider they have chosen is aware of certain data security and privacy rules and regulations. When choosing between cloud computing service providers it is advisable to carry out a risk assessment of potential hazards and consider the impact they could have on your business before deciding which vendor is right for your data. It is also worth considering where your company data is being stored, for similar reasons.
Legal And Compliance Issues
With more and more data protection legislation being put in place – such as HIPAA for healthcare in the US, and GDPR in Europe – it is increasingly difficult to ensure that data compliance is maintained. It is vital that companies have steadfast regulations in place to control which individuals can access data and what they can do with it. With the easy access to data on a large scale that comes with cloud computing, keeping track of who can access what can be tricky. 30% of organizations say that migrating to the cloud is one of the key challenges they face when it comes to managing access.
Outsourcing the storage or processing of regulated data means placing some trust in a third-party provider to maintain compliance. However, your organization may still be liable if your cloud storage provider experiences a breach. Mitigating this risk is as simple as doing ample research into any third-party provider before handing over access to protected data, and understanding your responsibilities to ensure compliance requirements are met. Cloud storage is a hugely beneficial technology that most organizations would benefit from using – but it may not be right for all types of sensitive data.
Insider Threats
This is not a security risk that many small to mid-sized organizations would expect to experience, but it can certainly happen. Insider threats do not necessarily have to be carried out deliberately and with malicious intent to harm the business; in fact, most insider incidents occur due to negligence or a lack of adequate training. Your trusted employees, business partners and contractors can be your biggest security risk, as human error remains the most widespread cause of data breaches. More concerning still, the cost of detecting and rectifying an incident caused by an employee or contractor is around $310,000 on average.
Employee negligence typically stems from lax security practices and lack of training around security best practices, which creates vulnerabilities for companies. Examples of this can include employees accessing their organizations' cloud infrastructure using their personal devices (mobile phones, tablets etc.) and employees using weak passwords for cloud accounts, thereby creating an access point through which the organization could become compromised. Insider threats caused by negligence or inadequate due diligence can often occur when companies are too quick to migrate their business networks to the cloud, without a clear plan of action in place.
While it is true that the risk of an insider threat is not unique to cloud computing users, it is also true that moving to the cloud changes the risk. When you hand over control of your data to a cloud service provider, you inevitably introduce a new layer of potential insider threat – from your provider's employees as well as your own. This reinforces our earlier point about the importance of risk assessment and ensuring the cloud provider you choose has robust security policies in place.
Cost Management
The scalable, on-demand nature of cloud computing services means that quantities and costs can sometimes be difficult to define. Pay-as-you-go models and SaaS monthly subscriptions can quickly snowball into unmanagable costs for small businesses – especially when considering the deployment and support fees many cloud providers charge.
Methods for keeping cloud costs in check – such as conducting better financial analysis and reporting, keeping the management reporting practice on course, and automating policies for governance – can go a long way in decreasing the financial strain of these cloud computing issues.
Over Complication
As complexity increases, so do risks and costs. Technology is always advancing, consumers' expectations constantly evolving, and the huge range of options – not to mention the benefits, functionalities and cost-cutting potential cloud solutions offer – can be overwhelming. With this in mind, it makes sense that multi-cloud is set to become the norm by 2025, with over 92% of businesses moving from a single cloud to a multi-cloud or hybrid strategy.
The best way to mitigate the risk of complexity is to automate as much as possible. By automating the management and monitoring of cloud services, issues will be instantly flagged – and in some cases, resolved. Or if you are importing new users, they can be automatically onboarded, so you don't need to manually add each person. This makes managing cloud services far easier, and more cost-effective.
The Benefits Of Cloud Computing Outweigh The Risks
Cloud computing is, undoubtedly, revolutionizing the IT industry. It is also making a big impact in the business intelligence landscape and beyond, as the adoption of cloud technology grows exponentially. Cloud-based software comes with several benefits for companies across all sectors, including providing access to business data and applications from anywhere, at any time, on any device – at more affordable pricing than on-premise technologies. The number of small business owners relying on the cloud for hosting data is set to reach 60% by 2022, with the numbers roughly doubling from 2018.
While there are risks when considering switching to cloud computing, as long as you do your due diligence and take steps to keep ahead of these, there is no reason that your IT roadmap should need to remain stuck on-premises.