Cyber threat intelligence (CTI) is a set of actionable insights that can help you identify and preempt potential and active threats facing your organization.
Cybersecurity is all too often a game of knowledge. Budgets, resources, and technologies are certainly important—but knowledge is what enables you to use them in the right places, at the right times, in the right ways.
There's a reason the old saying goes, "knowledge is power." And it rings especially true in the cyber world, where knowing what you're up against is often half the battle.
Cyber threat intelligence helps you gain access to exactly the right knowledge at exactly the right time, so that you can preempt and thwart incoming or potential attacks before they have the chance to inflict damage.
Throughout this article, we'll take a look at what cyber threat intelligence is, why it's important, how you can go about producing it, and how investing in a robust solution can help your organization tackle today's cyberthreats.
What Is Cyber Threat Intelligence?
Cyber threat intelligence enables you to make better-informed, timely, contextually driven, and strategic security decisions to proactively protect your organization against both potential and active threats.
But to fully understand what cyber threat intelligence is and how you can use it, you should note that intelligence is not synonymous with data or information. Rather, data and information are the building blocks that intelligence is built on.
Let us explain.
Data Vs Information Vs Intelligence
Cyber threat data is raw, indisputable fact produced by feeds and logs with no interpretation or analysis to contextualize it. Data can be collected from a variety of sources but, on its own, it's not actionable because it lacks the context or interpretation to enable you to make decisions.
Cyber threat information is threat data that's been aggregated and structured into a narrative to answer a particular question. This can help you more easily understand the data and what it means—but, just like threat data, it can't help you make decisions.
Cyber threat intelligence, on the other hand, is produced by the collation, processing, and analysis of threat data and information in a process that we refer to as "the threat intelligence lifecycle". The output of this is a set of insights that help you not only understand and predict potential threats, motives, behaviors, and tactics, but also make strategic decisions on how to protect against them.
The Three Types Of Cyber Threat Intelligence
While all organizations can certainly benefit from cyber threat intelligence, not all types of intelligence are relevant to every team within your organization.
Different levels of intelligence provide different depths of insight and apply to specific teams, stakeholders, and audiences. Each level also informs a different strategy, process, or function.
The three key levels of cyber threat intelligence are:
Tactical threat intelligence: This includes real-time analysis of existing threats and security events
Operational threat intelligence: This provides intelligence on specific impending threats and the operations behind them
Strategic threat intelligence: This is a more broad, non-technical overview of the threat landscape and is linked to geopolitical developments
Let's look at these in a little more detail.
Tactical Threat Intelligence
Tactical threat intelligence is an analysis of real-time threats and security events that are happening on an organization's network. It includes details on Indicators of Compromise (IoC)—including unusual traffic or login activity, IP addresses, file hashes, file names, domain names and URLs—and threat actor Tactics, Techniques, and Procedures (TTP).
Tactical intelligence provides timely, relevant, contextual, and actionable intelligence to help triage and validate security alerts—helping analysts to prioritize which alerts to act on, proactively put security measures in place, better allocate resources, and filter out irrelevant data.
Tactical intelligence is most useful for technical analysts working in the security operations center (SOC), incident response teams, and organizations using security information and events management (SIEM) tools.
While tactical threat intelligence is the easiest type of intelligence to gather and is often automated, the price you pay is its short lifespan, as IoCs can become obsolete very quickly.
Operational Threat Intelligence
Operational threat intelligence provides detailed actionable insights on the attributions, motivations, and TTPs behind criminal operations and incoming threats.
Think of operational intelligence as anticipating who or where your next attack is going to come from, why they're going to attack you, and how they're likely to carry out their move. This is particularly valuable in helping you understand the threats you're facing and decide how to proactively respond before the threat becomes an attack.
Operational intelligence is most useful for analysts working in the more active and technically focused areas of your organization—including your SOC, vulnerability management, incident response, and threat monitoring.
Collecting operational threat intelligence can be a difficult task, as it often relies on human intelligence as well as potentially obfuscated information posted on social media and in dark-web chatrooms. But its benefits are that it helps you expose incoming risks and make better informed decisions, and it has a longer shelf life.
Strategic Threat Intelligence
Strategic threat intelligence differs from tactical and operational intelligence in that it's fundamentally non-technical in nature.
Strategic intelligence instead provides a broad overview of your organization's threat landscape and risk level with regards to geopolitical and business trends that could potentially impact your organization.
This type of intelligence is collected to inform non-technical audiences—such as executives, board members, and decision makers—of global developments and trends, and help them make strategic business decisions in light of these. Strategic intelligence often comes in the form of reports, briefings, whitepapers, policy documents, and other research materials.
Strategic intelligence is generally the most difficult type of intelligence to generate, as it requires human intelligence and expertise in geopolitical and business trends.
Why Is Cyber Threat Intelligence Important?
"Nobody can predict the future,"—well, except for threat intelligence analysts, of course!
A fundamental principle of threat intelligence is to provide you with the right knowledge to preempt future attacks and thwart them before they can strike—to shift your security practices from reactive to proactive. As ThreatQuotient's Chris Jacob told Expert Insights in a recent interview:
"Threat intelligence allows you to be predictive in your incident prevention and response. The whole idea is that you're identifying the malware before you're infected; you know enough about it from your own research and intelligence feeds to be able to recognize it and know how it's going to move."
Having access to the right knowledge at the right time enables you to predict emerging threats and proactively implement the right protection to safeguard your organization against them. ZeroFox's Adam Darrah advises:
"With that information, you can assess your risk of attack and start putting in place the necessary measures to mitigate this risk."
But, alongside this future-telling capability, what are some of the key reasons why cyber threat intelligence is so important for businesses?
Streamline Incident Response
Threat intelligence can revolutionize the way your threat hunters and incident response team members identify and respond to cyber incidents.
Having access to the relevant intelligence—particularly tactical intelligence—can help your teams not only better understand threat actor TTPs and enable them to respond accordingly to security events, but also help them sift through and prioritize security alerts, filter out false positives and negatives, and respond more quickly to genuine attacks, mitigating and containing damage in a more targeted and efficient way.
Enhance Risk Analysis
Risk analysis is a key process in helping organizations analyze and predict potential threats they might encounter. So, naturally, threat intelligence ties in with this process quite nicely.
Cyber threat intelligence can enhance risk analysis processes by identifying threat groups and actors, frequently targeted industries and locations, attack frequencies, methodologies used, and outcomes of historic attacks.
This contextual information helps security professionals to determine the level of risk to their assets and put into effect the appropriate remediation measures.
Strengthen Vulnerability Management
No system is without vulnerabilities; it's a fact of life. Threat actors know this—and they exploit it.
Since being invulnerable to attack is an impossible goal (as much as we might wish it wasn't), combining traditional vulnerability management with cyber threat intelligence is a great way to reduce risk.
Cyber threat intelligence—particularly operational intelligence—can help your security team identify which vulnerabilities are most at risk of being exploited in potential attacks, and which they should prioritize patching. This means you can focus your efforts on addressing the most urgent vulnerabilities and reduce the strain on your analysts.
Focus Penetration Testing Exercises
All too often, we see organizations taking a compliance-based approach to penetration testing, seeing it as a tick-box activity as opposed to the valuable exercise that it is.
We highly recommend testing your organization's resilience to real-world threats that you'll likely one day face, so you can identify where your vulnerabilities might be and analyze your strengths and weaknesses.
Cyber threat intelligence helps inform your penetration testing program, so you can focus on testing your security defenses using the attack vectors you're likely to face.
Develop Strong Security Strategies
Cyber threat intelligence (strategic threat intelligence, in particular) is vital to enabling stakeholders, decision makers, and security teams to understand the wider threat landscape and map out effective countermeasures—such as security strategies and cybersecurity policies.
Threat intelligence is also particularly useful for resource allocation—having the right analysts, technologies, and solutions in the right place at the right time to effectively combat attacks.
Detect Fraudulent Activity
Cyber threat intelligence can help you not only detect fraud attacks that are directed at your organization—such as impersonation and business email compromise (BEC) attacks)—but also activity where a threat actor might be using your company's name and brand to defraud others.
By monitoring sources like the deep and dark web, you can gather intelligence on data that's been compromised and shared—such as credentials, bank details, and sensitive data—and take actions to prevent those details from being used maliciously. 
Ensure Compliance
Cyber threat intelligence can play a key part in helping you stay compliant with external regulators, such as GDPR, NIS Directive, HIPAA, SOX, PCI DSS, and more.
Many of these regulators require you to follow a risk-based approach to security, as well as have the right security controls in place to effectively protect you from threats and enable you to identify potential breaches.
Inform Security Awareness Training Programs
Employees are your greatest assets, and can be a robust line of defense against cyberthreats. But just like all great assets, they need the right protection and support to secure themselves and your organization against the latest threats.
You can incorporate relevant intelligence into your security awareness training program to educate users on how to detect and respond to the specific threats your organization is likely to face. This means that, should a genuine threat slip past the security controls and technologies you have in place, your users naturally know how to respond.
The Cyber Threat Intelligence Lifecycle
Earlier, we said that cyber threat intelligence is produced by the collation, processing, and analysis of threat data and information to create a set of actionable insights.
In the following section, we'll take a look at how that process works—how threat data and information become intelligence.
The Six Steps Of The Threat Intelligence Lifecycle
Threat intelligence is cyclical in nature.
This is partly down to the sheer volume of new threats and attacks surfacing daily, meaning a threat intelligence team's job is continuously ongoing. But it's also because, as you go through the process of collecting and producing threat intelligence, new questions naturally arise, prompting new requirements to be established and a new cycle to begin.
This essentially creates a systematic, continuous feedback loop that consistently builds upon itself and opens itself up to new questions and requirements as you go on.
This continuous loop happens in six key stages:
Planning and direction
Collection
Processing
Analysis
Dissemination
Feedback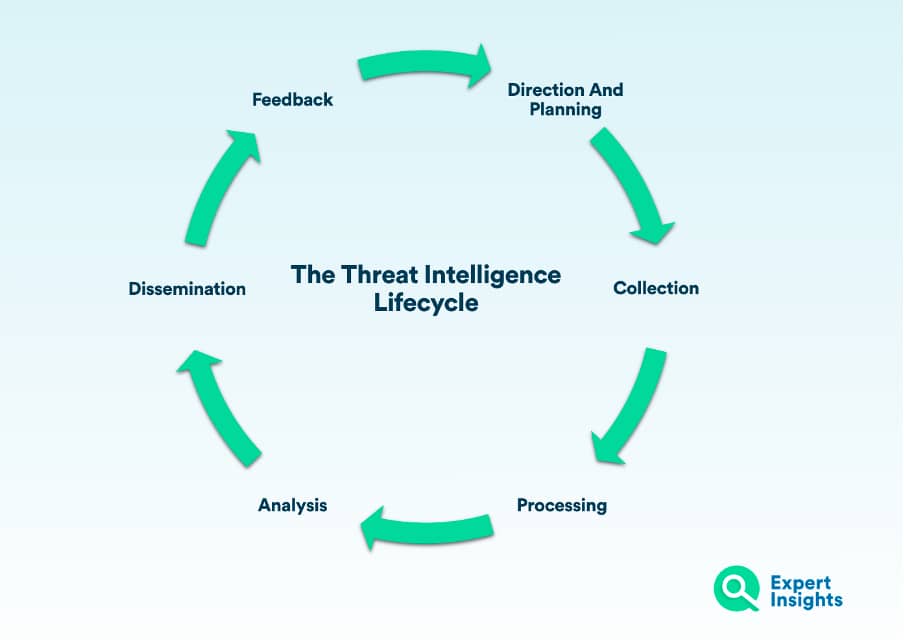 Let's take a deeper dive into what each stage entails.
1. Direction And Planning
The first stage of the threat intelligence lifecycle is a crucial step—it's where your threat intelligence team gathers requirements and prepares how to carry out the threat intelligence operation.
Direction comes from asking questions to identify your intelligence requirements (IRs) and priority intelligence requirements (PIRs). These could include questions around attacker identity and motivation, the types of attacks that frequently target your geographical region or industry, or the tactics and techniques these attacks employ.
Planning includes identifying intelligence gaps, agreeing on goals and methodologies, and setting out a roadmap for the operation. For industries such as law enforcement and military, the output of this planning might take the form of an intelligence collection plan (ICP), which provides a structure for how you'll collect, process, and analyze that data.
2. Collection
Once your threat intelligence team has identified your intelligence requirements and prepared your plan, they must collect raw data and relevant information to help answer those requirements.
There are endless data streams from which your team can collect threat information. But while it's a good idea to draw from a range of sources to ensure a holistic understanding of threats, it's also important to focus on relevant sources when it comes to answering your requirements—as decided in the direction and planning stage.
Sources of cyber threat data and information include (but aren't limited to):
Indicators of compromise
Malware analysis
Deep and dark web
Social media and messaging platforms
Open source intelligence feeds and publicly available data sources
Information sharing platforms—such as the UK National Cyber Security Centre's (NCSC) Cyber Security Information Sharing Partnership (CISP)
Code repositories
Paste sites
3. Processing
Following the collection phase, your threat intelligence team will likely find themselves drowning in a sea of raw, disconnected, unusable data. Which is why the processing stage is so important.
During this stage, your team organizes that raw data into a structured format—a format that's easily understandable for users and allows for analysis (which happens at stage four). This can include organizing data with metadata tags or pulling it into spreadsheets, filtering out irrelevant information and false positives/negatives, decrypting files, and more.
4. Analysis
Raw data isn't actionable because it lacks the required context and insight. Stage four—the analysis phase of the cycle—is where that raw data is studied, put into context, and made actionable. This is where it becomescyber threat intelligence.
To achieve this, your threat intelligence team performs a structured analysis of processed data to identify patterns and find answers to the questions and requirements outlined in stage one. The output is a set of relevant and contextual action items that can help inform strategic decisions and ensure you have the right protection in place against threats.
This is also where any automated remediation actions you've put into place will occur.
5. Dissemination
The fifth stage of the threat intelligence cycle—the dissemination stage—is where your intelligence team translates and communicates their findings into an easily understandable, digestible format for stakeholders, decision makers, and security teams.
Depending on your audience and the type of intelligence being communicated, this can take many forms, such as intelligence reports, whitepapers, or briefings. Other types of intelligence might be shared in feeds, threat lists, or via automated platforms.
This stage enables decision makers and security teams to adjust or implement security strategies to proactively protect against threats.
6. Feedback
The sixth and final stage of the threat intelligence cycle is the feedback stage. This is where feedback is given on the intelligence produced—for example, whether it answers the requirements, how useful it is, and how intelligence operations can be improved in future.
This is also where you re-evaluate your organization's goals, security priorities, and requirements to determine whether you need further intelligence, as well as the areas you need it in.
If you identify any new requirements or objectives during this stage, you might re-start the intelligence cycle, looping back to the direction and planning stage to map out how you're going to gather intelligence to meet those new objectives.
Do You Need A Cyber Threat Intelligence Solution?
There are many cyber threat intelligence solutions on the market that are designed to handle much of the threat intelligence cycle for you—including data collection, processing, analysis, and dissemination. And they're used more widely than you might think.
In fact, security decision makers are now estimated to subscribe to 7.5 commercial external threat intelligence services on average, according to a report by research company Forrester—a surge of 75% since their previous report. This suggests that not only are organizations realizing the value of cyber threat intelligence, but they're also subscribing to various different solutions to create a well-rounded overview of their threat landscape.
How Do Cyber Threat Intelligence Solutions Work?
A robust threat intelligence solution—or threat intelligence platform (TIP), as they're commonly referred to as—makes data collection, processing, and analysis an easy and efficient task. They do this by incorporating many data points from various sources and threat feeds, analyzing that data, and presenting its results in acustomizable central dashboard.
Some solutions achieve this via their expert threat hunters and cyber threat intelligence analysts, while others offer an automated solution that's based on artificial intelligence and machine learning. Many offer a mixture of the two to give you the best of both worlds, providing a combination of human and artificial intelligence to present a holistic overview of your organization's threat landscape.
Artificial intelligence and machine learning can not only automate data collection from various threat feeds, analyze potential security events, and help you prioritize alerts, but also enable you to automate remediation actions when your security systems identify a threat.
This frees up your security professionals' resources to focus on work that requires human intelligence and expertise.
Threat intelligence solutions are also often easy to integrate with existing technologies—such as security information and events management (SIEM) and endpoint detection and response (EDR) tools.
Should You Invest In A Threat Intelligence Solution?
So, do you need to invest in a cyber threat intelligence solution? Well, it depends on your organization's specific goals and requirements.
But a robust solution can certainly take much of the strain out of your security professionals' everyday lives, enable them to more easily identify threats and preventative measures that need to be taken, and inform many of your wider security practices.
The high volume of cyber threat intelligence solutions currently on the market can make choosing the right solution an overwhelming task—so let us help you out. Check out our buyers' guide to the top 10 cyber threat intelligence solutions to help you make an informed decision.
Summary
Cyber threat intelligence is a valuable resource in helping your security analysts and teams to preempt attacks, strengthen your defenses, and inform security processes.
If knowledge is power, then use it to your advantage. Cyber threat intelligence is a great way to do that.