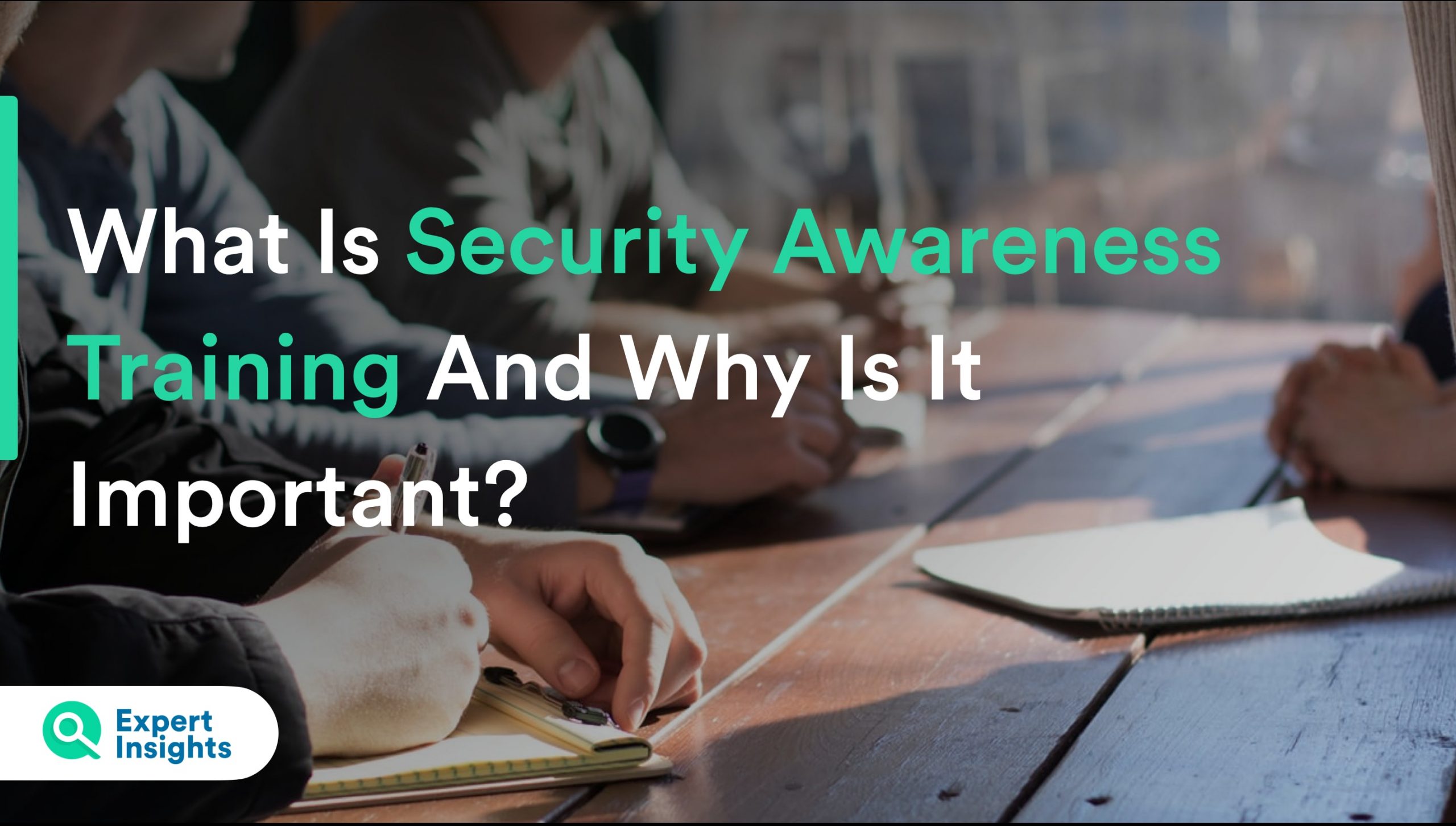 Blog
What Is Security Awareness Training, And Why Is It Important To Train Your Employees?
Research shows that implementing a robust Security Awareness Training program is crucial to securing your organization – but why?
Expert Insights / Apr 16, 2021
By Megan Rees
Responsible for over 90% of security breaches, human error is the kryptonite of any organization's cybersecurity defense. And cybercriminals know this.
As an organization, your employees are often both your first line of defense and the only thing standing between cybercriminals and your sensitive data. Because of this, improperly trained employees are essentially holes in your ship – even one has the capacity to sink the entire boat.
What makes people so susceptible to cyberattacks is their tendency to trust others, as well as their capacity for error and manipulation. In fact, it doesn't matter who they are, or what their experience level is – all types of employees are vulnerable. And all types of employees can fall victim to attacks.
This means that whilst your staff are your most valuable asset, they're also your most risky.
So, before your business becomes the next Titanic, you should take steps to address any issues before they arise. After all, why spend time and resources on saving a capsizing ship when you could avoid the iceberg in the first place?
But how do you go about reducing your chances of a human-orchestrated security breach?
No solution is 100% effective against all kinds of attacks. But there are ways for you to mitigate how often they are successful and lessen their impact on your business when they are.
Implementing a robust security awareness training program is one of the steps you can take towards securing your organization against human error. But, while it is effective, it's not a simple one-and-done solution. And it's by no means the only measure you should be taking.
Research giant Gartner estimates that 60% of large businesses will have invested in comprehensive Security Awareness Training programs by 2022. But what exactly is Security Awareness Training? And why should you actively and regularly be training your employees alongside the solutions and software you may already have in place?
What Is Security Awareness Training?
Security awareness training is designed to educate employees on cybersecurity best practices, including the different cyber-threats and attacks posed to their organization by cybercriminals, and what to do – and what not to do – if they're targeted. Employees are equipped with knowledge of the types of attacks they face and how their actions can be the difference between business as usual and a major security incident.
The idea is that the better informed employees are on how to keep themselves safe and what signs of danger to look out for, the less likely they are to expose their organization to potential breaches.
As cyberattacks grow more advanced and cybercriminals more experienced, it's vital that your employees are regularly exposed to and knowledgeable of all types of attacks they could face. After all, it's much easier to defend yourself when you know what to look for. And in an ever-changing IT environment, cyberattacks are constantly evolving.
How Does Security Awareness Training Work?
There are two different elements to any comprehensive security awareness training program – training and phishing simulations.
On the one hand, training consists of learning materials aimed at educating employees about the various cyberthreats out there and how best to keep themselves and their organization safe. Learning materials might include bite-size videos, blog posts, or interactive mini-games, for example, and users will be assessed throughout via quizzes, or real-life simulations. Topics taught will typically include privacy, email security, password management, and physical device security, to name a few.
Phishing simulations, on the other hand, enable organizations to send simulated phishing emails to employees, imitating genuine phishing emails. These test whether the individual will report the message as phishing, or instead, click on the links and attachments within. To report these emails, some vendors offer Outlook plugins as part of their solution, meaning employees can safely and easily report any suspicious messages they might receive.
What's great about phishing simulations is that most vendors provide access to libraries of email templates, and these are often customizable. This means you can tailor your emails to be more personalized to your organization, or to resemble the kind of attacks you'd normally get. As well as that, you can configure them to automatically enroll any users that fail simulations into "just in time" training.
Some organizations might choose to only implement either training or phishing simulations as part of their security awareness training program, not both. And this is problematic.
Nearly 30% of organizations rely solely on phishing simulations to educate users. While simulating real-life threats is the most effective way of doing so, Proofpoint reports that in relying entirely on phishing simulations, users are merely being tested. They aren't learning about different types of attacks or risks, how they work, and how to prevent them.
On the flip side, education alone isn't enough. Having knowledge and actually putting that knowledge into practice are two very different things. And so, when under pressure and facing a situation that they haven't actually practiced before, users might not make the best decisions, even when they know what the correct procedures are.
So, for any Security Training Awareness program to have maximum impact on your organization, it needs to include both training and phishing simulations.
So, Why Is It Important To Train Your Employees?
It's often said that, when it comes to security breaches, it's not a case of if, but when. And your organization is no exception.
In a recent survey, over half of all respondents revealed that their organization was subject to a successful phishing attack in 2020. So, your organization might be more vulnerable than you think.
In fact, Cofense's 2021 Annual State of Phishing report estimates that nearly 11 in every 100 users are likely to click on credential phishes alone. So, if you thought having one hole in your ship was risky, try having holes in almost 11% of it.
Between 2019-2020, the average cost of a data breach was a massive $3.86 million, meaning that successful cyberattacks can not only be harmful, but devastating to your organization's financial situation, credibility, and partnerships.
By taking active measures to reduce human error within your business, you'll already be one step further away from becoming a part of that frightening statistic of breached organizations.
Below are five key benefits of Security Awareness Training, and how it can help strengthen your wall of defense against cybercriminals and malicious threats.
1. Transform Your Weakest Links Into Your First Line Of Defense
Human error is accountable for almost all security breaches. But what if you could empower your employees with the knowledge and skills to not only recognize, but actively defend your organization against cyberattacks? In this sense, you're not only strengthening your greatest weakness but adding in an extra line of defense.
Employees with proper training are far more likely to recognize phishing attacks than untrained employees. And in the same sense, Proofpoint observed a decrease in the numbers of users failing phishing simulations between 2019 and 2020.
So, security awareness training does make an impact on the way that employees react to cyberthreats – the evidence supports that. By regularly training and testing your staff, you're turning your greatest vulnerability into a human firewall.
2. Foster A Security-Aware Organizational Culture
It's one thing to know how to defend against cyberattacks, but another to actively put this knowledge into action. And security best practice, just like any other skill, requires regular rehearsal.
The way employees understand security is rooted in their organizational culture. In this sense, fostering a security-aware workplace culture will not only place cybersecurity at the forefront of your employees' minds, but change their attitudes and become a part of everything that they do.
And as well as that, by implementing organization-wide training, you can set the standard for what's expected of your employees. This helps establish behavioral guidelines and supports your disciplinary processes when these behaviors aren't adhered to.
Any good security awareness training aims to not only educate users but change their behavior, so that security good practice becomes second nature – or muscle memory.
By teaching your employees good habits, you can ensure that when the time comes where a phishing email isn't a simulation, they'll instinctively know what to do and won't be left guessing.
3. Pinpoint Vulnerabilities And Understand User Behavior
Simply allocating security awareness training to your employees is only half the battle. It's like firing blindly without understanding where your targets are – you might hit a few, but the well-hidden ones are going to go unnoticed.
Luckily, many vendors offer reporting tools that allow organizations to pinpoint where their weaknesses are and understand user behavior. Scoring is often provided on a per-user basis, meaning you can identify individuals who might need further training, as well as areas of weakness within your organization – for example, weak password usage. Using this data, you can adjust your program accordingly to maximize its benefits and make appropriate improvements.
Any good security awareness training platform should enable admin to monitor and track which of their employees have engaged with learning materials and completed training, as well as provide metrics for phishing simulations.
Data on phishing simulations will help you understand not only who is failing them but how frequently, as well as the types of messages that are most commonly clicked on. Using this data, you can then identify the riskiest individuals in your organization, as well as the types of training they need, and target these immediately. You can also use this data as part of Continual Improvement initiatives.
4. Ensure Regulatory Compliance And Avoid Large Fines
The number of organizations that believed they were doing an excellent job at maintaining compliance before the COVID-19 pandemic fell by 8% at the beginning of the crisis – a decline from 64% to 56%.
Now, with more users working remotely than ever, ensuring your employees comply with external regulators and insurance policies is crucial if you want to avoid hefty fines or invalidating your insurance policy. We don't advise that this be your main or only reason for implementing security awareness training – results are best when you think of it as an educational tool rather than a check box activity – but it is a critical factor in why you should be implementing it.
For example, implemented in 2018 by the European Union, The General Data Protection Regulation (GDPR), makes regular and ongoing Security Awareness Training mandatory for organizations involved with processing and managing the personal data of citizens within the EU. Non-compliance with their regulations can land an organization a fine of more than £10 million, or 2% of the past year's revenue – whichever of the two is higher.
Choosing to implement security awareness training can also affect your insurance policies. Educating employees on security best practices can not only help prevent a user from unintentionally invalidating the policy, but can lower premiums by reducing risk of human error. But as well as this, following a claim, some insurers might ask for proof that an organization has taken measures to improve their defenses. If the organization can't demonstrate this, the insurer might refuse to cover a second breach. In this sense, security awareness training should certainly be implemented after a breach caused by human error.
5. Reinforce Your Existing Cybersecurity Defenses
Key to any robust security program is having the right software and technologies in place to defend against cyberthreats. But despite how successful these technologies are at mitigating cyberattacks and blocking malicious threats from breaching firewalls, no solution is entirely effective on its own – some threats can slip through the cracks.
Arming your employees with knowledge of how they can prevent potential breaches when they spot them will add an additional layer of defense alongside any solutions you may have in place. So, why settle for one layer of defense when you could have two?
78% of IT and Security decision makers and influencers view both technology and security awareness training as equally as important when it comes to securing their organizations. Security awareness training shouldn't be seen as separate from security software and technology – but instead, complimentary to it. In fact, many vendors providing security solutions now also offer training that complements their software, that not only educates users on generic security awareness but strengthens their abilities to use and understand their platforms.
Finding The Right Security Awareness Training For Your Organization
It varies from vendor to vendor, but not all offer both training and phishing simulations – some might only offer one or the other.
But whether your organization decides to use the same vendor for both, or a different vendor for each, it is recommended that your security awareness training program encompasses both training and phishing simulations.
To help you find the right solution for your organization, take a look at our handy guide – The Top 10 Security Awareness Training Solutions For Business.
The iceberg is certainly ahead – will you decide to change course before your organization hits?