Email security is vitally important for businesses to protect their networks and private data. Email Secure Gateways should be the first line of defense for businesses, as they block incoming and internal email threats from infecting your businesses networks.
Two of the biggest email secure gateway vendors are Mimecast and Proofpoint. Both offer an email security gateway aimed at mid-sized to larger organisations, with over 250 users. Proofpoint also offers an 'Essentials' package, aimed at companies of 5 to 1,000 users. In a recent earnings call, Proofpoint reported that over 100,000 customers around the world utilize their the Essentials platform, making them the largest global email security vendor. Both Mimecast and Proofpoint offer advanced email security features, including virus and phishing protection, spam protection and reporting.
Choosing between these two platforms may be difficult for companies, who need to compare features and pricing. For some it will come down to 'soft' features, such as support, pricing and account management preferences. This article will outline what both vendors are offering and show a detailed breakdown of their features.
Mimecast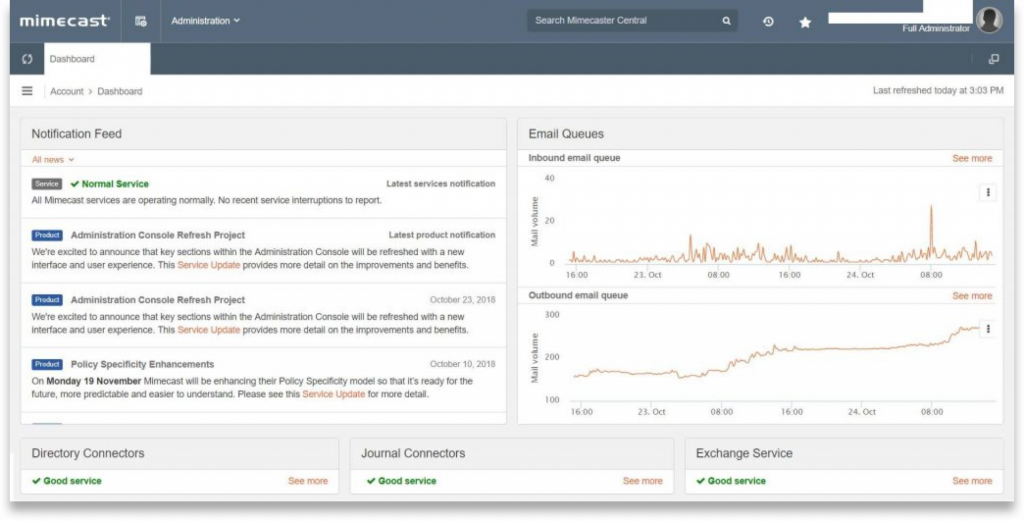 Mimecast are a popular choice for larger companies to protect their email networks. They have high levels of customer satisfaction and retention. One of their strongest features is their social engineering protection. This includes phishing attacks, and impersonation style attacks. The service is highly customizable and offers a good level of spam protection. Mimecast offer users comprehensive reports to show email volume and protection.
Proofpoint Essentials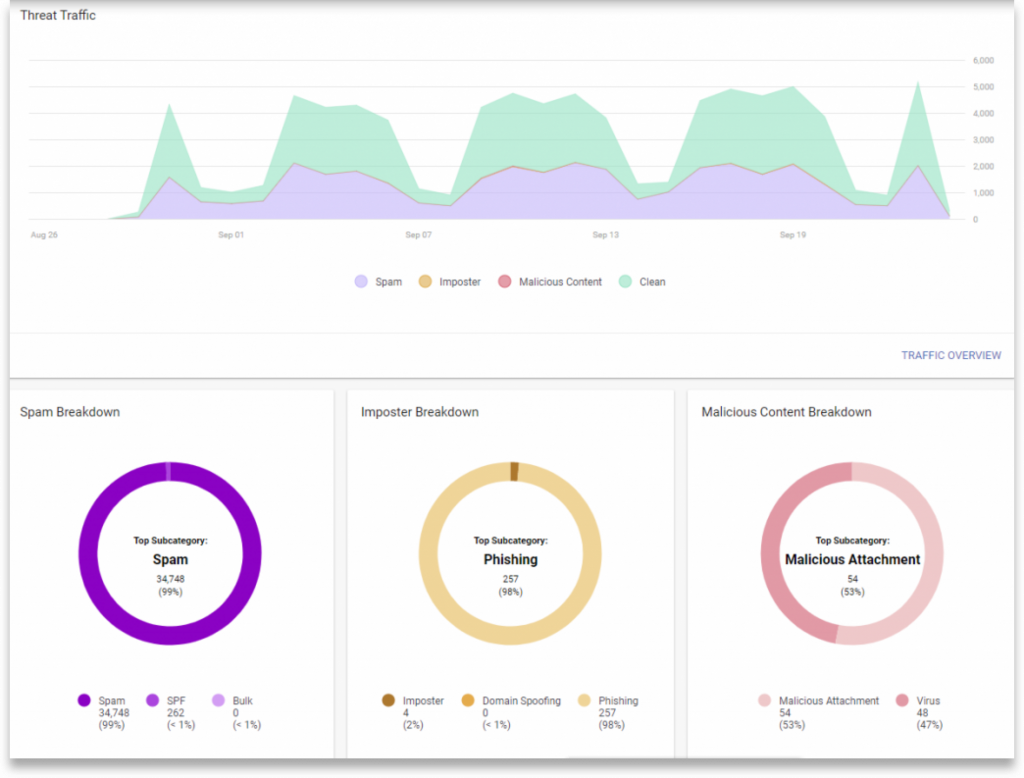 Proofpoint Essentials is a leading cloud-based email security solution that protects small and medium enterprises from advanced threats including phishing, malware, spam, and other forms of dangerous content. In addition, Proofpoint Essentials protects your sensitive and proprietary information from being stolen. Their integrated Archiving and Continuity features offer an easy and cost-effective way to meet your regulatory and business continuity needs. Essentials is extremely easy to set up and manage, is backed by Proofpoint's best-of-breed security and infrastructure and offers maximum value and cost-savings.
Features Breakdown
Threat Detection
Threat Detection is one of the most important aspects of a Secure Email Gateway. Here's how Mimecast and Proofpoint compare when it comes to threat detection:
| Threat Protection Features | Mimecast | Proofpoint |
| --- | --- | --- |
| Malware Protection | | |
| Attachment Sandboxing | | |
| URL Rewriting | | |
| Phishing Protection | | |
| Threat Intelligence Feed | | |
As the table above shows, both Mimecast and Proofpoint Essentials offer a full range of threat protection features. Mimecast and Proofpoint are both more effective than Office 365 alone in blocking spam, viruses and malicious content. Proofpoint has claimed that it performs better than Mimecast in their own internal email testing, catching 1,152 phishing and spoof emails that Mimecast categorized as clean.
Mimecast and Proofpoint do take a slightly different approach to threat protection. Proofpoint utilizes their own internal treat protection technologies, including MLX & CLX, multiple AV engines and custom filters for inbound and outbound emails.
Mimecast utilizes third party threat intelligence vendors to power their threat protection platform. They provide AV sandboxing (powered by LastLine), URL scanning (powered by Vade Secure) and URL reputation checking.
Proofpoint also claim to spend more researching emerging threats. They claim to invest 20% of revenue into R&D compared to 12.5% from Mimecast.
Spam Filtering
Stopping spam is one of the most important elements of the secure gateway.
| Spam Filtering Features | Mimecast | Proofpoint |
| --- | --- | --- |
| SLA on 99% Spam Filtering Effectiveness | | |
| Inbound Spam Protection | | |
| Outbound Spam Protection | | |
As you would expect from two leading Secure Email Gateways, both Mimecast and Proofpoint provide comprehensive spam filtering.
They both offer a Service Level Agreement on catching 99% of spam before it enters email inboxes. They both also provide inbound and outbound spam protection, which stops businesses from receiving, or being used to send out spam emails.
Admin Features
A strong range of admin features is crucial for admins to help prevent and remediate against email security breaches.
| Admin Features | Mimecast | Proofpoint |
| --- | --- | --- |
| Outlook Plugin | | |
| Active Directory Integrations | | |
| Single Sign-On | | |
| Per-User Policies | | |
| Complex Routing Scenarios | | |
Some differences between Mimecast and Proofpoint begin to emerge in the admin department.
They both integrate with Office 365 and Outlook. Deployment with both of these platforms is actually very easy for O365 admins due to Azure Active Directory integration, which means that all users are automatically synced to the Mimecast or Proofpoint platform.
They both offer Single Sign On, although Proofpoint are continuing to develop and provide new single-sign on options for MSPs and Reseller customers.
Both offer per-user policy management, although Proofpoint offers differ when it comes to end user controls. The Proofpoint platform offers a user 'digest' from where they can 'replay' deleted emails and restore quarantined emails, according to end user controls.
Mimecast also gives users self-service security options, as well as large file sharing capabilities, which can be managed by system administrators.
Mimecast provides complex routing scenarios, which Proofpoint at the moment does not offer with Essentials. This means if you're looking for complex routing scenarios, e.g. an enterprise with multiple mail servers distributed globally, requiring user messages to be directed to the mail server local to the user, Mimecast is the better option. Proofpoint only provides this with it's Enterprise platform.
Reporting
Reporting is very important when it comes to Email Security, helping admins to determine where threats are coming from and to take better steps to remediate against them.
| Reporting Features | Mimecast | Proofpoint |
| --- | --- | --- |
| Real-Time Mail Flow Reports | | |
| Inbound Mail Reports | | |
| Outbound Mail Reports | | |
| PDF Reports | | |
| Per-User Reports | | |
Proofpoint provides real time mail flow reports, as well as PDF reports, detailing where emails have come from.
Mimecast also delivers PDF reports, as well as providing reports on inbound and outbound emails. Both platforms also offer per user reports and breakdowns, allowing admins to get more granular breakdowns on individual users and groups.
End User Features
End User self-service is an important set of features. They help end users to stay productive, by allowing them to retrieve lost emails, release emails from quarantines, and block and permit different senders.
| End User Features | Mimecast | Proofpoint |
| --- | --- | --- |
| Block and Permit Senders | | |
| Email Quarantines | | |
| Bulk Email Delivery | | |
| Instant Replay | | |
| Quarantine Digests | | |
Both Proofpoint and Mimecast offer some similar end user self service features. In both services, end users are sent an email digest, that details any emails that have been blocked by the spam filtering service.
According to admin policies, the end user can then restore emails, or send and block recipients and senders. They both also provide instant replay, so that users can retrieve emails that they have lost, or accidentally deleted. End users can also both access their email archive, so they can go back over months to find their email communications in one place.
Proofpoint does have some advantages over Mimecast in the end user self-service department. Mimecast only holds emails for instant replay for 14 days, which means if an important received is quarantined, users only have two weeks to retrieve it. Proofpoint holds emails for 30 days.
Data Loss Prevention
Data Loss Prevention is an important feature of email security.
| Data Loss Prevention Features | Mimecast | Proofpoint |
| --- | --- | --- |
| Outbound Filtering | | |
| Pre-Defined Policies | | |
| Email Continuity | | |
| Email Encryption | | |
Outbound Filtering prevents bad actors from using your business networks from sending out spam. Proofpoint and Mimecast both provide Outbound Filtering, and DLP content filtering, so that certain emails with personal information or attachments are blocked, according to pre-defined policies.
Both Proofpoint and Mimecast also provide Continuity, which means that if your email networks were to go down, you could continue to send and receive emails. Both Mimecast and Proofpoint provide 30 days of full email continuity.
Email Encryption is in important aspect of data loss prevention, as it prevents anyone other than the intended email recipient from accessing email content. Proofpoint offers user based or user enforced encryption, that comes as part of the Essentials email security package. Mimecast also provides email encryption, but as an additional service, that is a separate cost to the email security.
Email Archiving
Email Archiving is an important aspect of email security for compliance. The Email Archive is designed to store copies of emails in secure archives, that cannot be edited, but can be easily retrieved for investigations.
| Email Archiving Features | Mimecast | Proofpoint |
| --- | --- | --- |
| O365 Integration | | |
| Search and eDiscovery | | |
| Export and Import | | |
| Ingests Historical Data | | |
Mimecast and Proofpoint both offer a comprehensive archiving solution. Proofpoint offer Archiving as bundled with their 'Pro' Essentials platform, while Mimecast offers it as an optional feature at all three levels of their email security. Proofpoint offers a retention period of up to ten years, while Mimecast allows customers to upgrade to perpetual retention, at a later date.
DMARC
DMARC is a method of validating that email communications are being sent through legitimate domains, in order to prevent domain spoofing attacks, which involve a bad actor impersonating your company's domain via email.
Both Mimecast and Proofpoint have a robust DMARC offering. Proofpoint offers enhanced DMARC checking with an easy-to-use guided set-up, while Mimecast a more advanced, integrated DMARC service. Mimecast's offering also includes strong support, including self-service email intelligence tools, guided workflows and wizards, in order to reduce the resource and effort required to enforce a DMARC policy.
Mimecast's DMARC offering is more sophisticated than that provided by Proofpoint, but their pricing reflects this.
Package Breakdown
Here's how the pricing compares for Mimecast and Proofpoint Essentials. You can scroll across to see the full table.
| Features | Mimecast Perimeter Defense | Mimecast Comprehesive Defense | Mimecast Pervasive Defense | Proofpoint Business | Proofpoint Advanced | Proofpoint Pro |
| --- | --- | --- | --- | --- | --- | --- |
| Threat Protection | | | | | | |
| Spam Filtering | | | | | | |
| Email Encryption | | | | | | |
| DLP | | | | | | |
| Continuity | | | | | | |
| Archiving | | | | | | |
Final Thoughts
As two mature Email Security Gateway solutions, there are a lot of similarities between the two platforms. Both provide comprehensive threat protection features, admin controls, and data loss prevention.
Mimecast has the edge over Proofpoint Essentials in a few areas. For enterprise customers, it's the clear choice, with some advanced features like allowing complex routing scenarios and more granular content filtering policies. It has some unique features, such as support for Large File Sharing.
Proofpoint Essentials has better end user controls and is more suited to SMBs and MSPs due to the lower price point, ease of provisioning, and overall range of features, with Email Encryption and Archiving within the Essentials package. Proofpoint also has unique features, such as Social Media Account Protection.
Our recommendation if you're considering both of these solutions is to get quotes and demos of both services, and try out the services before buying, to make sure you make an informed buying decision.
Find Out More
To find out more about Mimecast, you can read our full review of Mimecast Secure Email Gateway here.
To find out more about Proofpoint, you can read our full review of Proofpoint Essentials here.
You can read reviews of all the best Email Secure Gateways here, or you can read our guide to the Top 11 Email Secure Gateways.