How many different accounts have you used today before opening this article? In our workplace today we manage dozens of accounts on a regular basis – each one a potential security risk. So, for each of the accounts you've used today, how many passwords can you remember?
If you can remember all of them, you've either got an incredible memory, you're using passwords that are too easy to guess, or you're reusing the same password for each account. This is a big security risk for individuals, but for businesses it can be devastating; compromised accounts can cause financial loss, hefty fines by government bodies, and a loss of company reputation.
Managing hundreds of passwords can be frustrating and hugely time consuming, but it doesn't have to be. There are a range of highly secure, user-friendly and affordable password management solutions built for businesses that help you and your colleagues to better manage your passwords.
How Can You Better Secure Business Accounts?
There are a couple of password managers on the market, but for ease of use, security features and adaptability, we recommend Dashlane. Dashlane is a password management solution that helps to promote better password habits and protects teams against account compromise and data breaches.
Dashlane provides a host of features that make it easier for businesses to manage passwords. The service provides three key areas of functionality to make sure you stay protected from password related data breaches.
First, you are able to create highly secure passwords that cannot be easily guessed. Second, these passwords are stored in a secure, encrypted password vault, which cannot be easily hacked. Finally, you are able to retrieve these passwords and share them securely with other team members.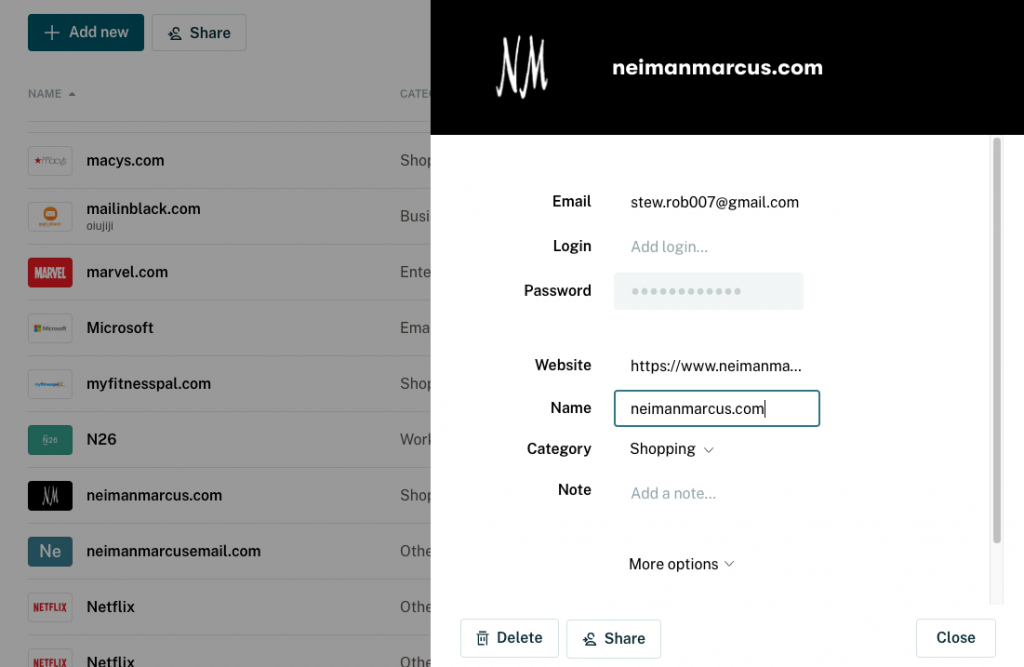 Dashlane is the rare type of security solution that both protect the user against cybersecurity risks and make their life easier. With Dashlane, you no longer have to remember every password – you simply log into the platform, browse the web, and your secure passwords will autofill as needed when you try to log into an account. 
Dashlane also ensures that your entire business stays protected from password related risks with admin policies and controls, reporting, and a simplified deployment process. From the management console, admins can onboard users, configure the service, manage password policies and view detailed reports.
Crucially for businesses, Dashlane allows users to securely share passwords within teams or departments, according to admin polices. This means that when multiple team members share one company account, they don't have to share passwords on sticky notes in the office or on monstrous excel files with hundreds of passwords listed. This makes life easier and greatly improves account security.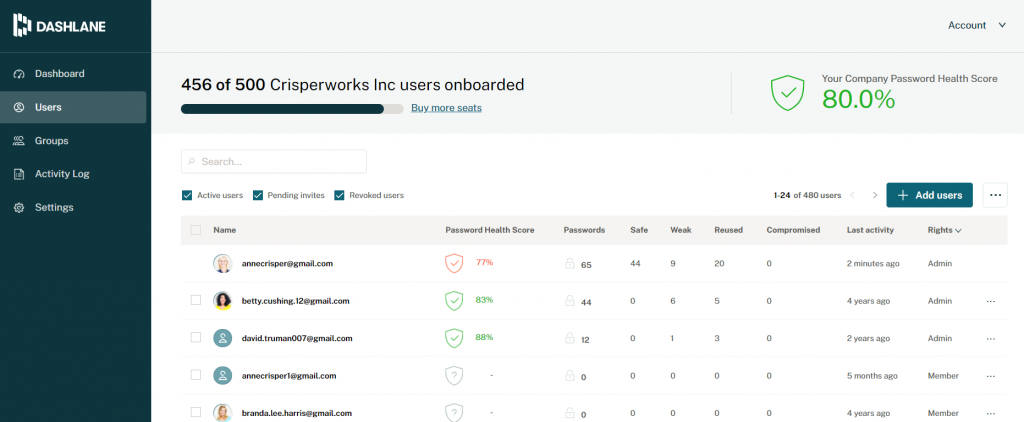 Dashlane offer two pricing models for businesses: Dashlane Team and Dashlane Enterprise. Dashlane Team provides the password manager service, including their US-patented security architecture, admin management console, reporting, group sharing and two-factor authentication. Dashlane Enterprise is their advanced option, which provides all of the above features alongside SAML-based single sign-on and a free family plan for every user.
---
---
Why Use a Password Manager?
Today, our passwords really are the keys to the kingdom. Easy to guess passwords can give attackers access to important company accounts, to confidential data or financial information. When you reuse passwords across multiple accounts, all it takes is one password to be revealed in a public data breach for all of your accounts to suddenly be at risk.
With the average employee having over 100 different accounts to keep track of, this means that we cut corners, we reuse passwords, we use easy to remember, easy to guess passwords, or maybe we use passwords written down on sticky notes. With Dashlane you can log in securely and safely with peace of mind.
The main effect of all of this is that the average cost of a data breach has risen massively to a staggering $4.77 million USD for breaches that involve stolen passwords or credentials. The problem of unsecure passwords causing data breaches has never been worse than it is right now.
This is especially true in the midst of the COVID-19 pandemic. With companies working from home, safer password practices are even more important
An enterprise password management solution helps to protect against password- and credential-related breaches. When each user has highly secure, unique passwords for every account, your risk of business compromise goes right down. With an enterprise password manager like Dashlane, admins can also set password policies, view reports into breaches and password behavior, and make sure that employees are sharing passwords securely across your business.
Password managers like Dashlane are easy to use and deploy, with low monthly costs per user, making them a good option for all organizations to keep their accounts secure from cybercriminals.
Dashlane Plans And Pricing
Dashlane for business is available on two main plans:
Dashlane Team covers the core enterprise management features: the ability for end users to create, store and quickly access secure passwords, Dashlane's US patented security architecture and their management console.
From the management console, admins can manage password policies, view advanced reporting into password hygiene and onboard users. With Dashlane Team, admins are able to easily add new users with active directory integration, allowing users to get set up in just a few clicks.
Dashlane Team also supports secure group password sharing and gives admins the ability to enforce two-factor authentication to access the secure password vault. Pricing for Dashlane Teams is $5 USD per user per month billed annually.
If you are interested you can try Dashlane with a free 30-day trial.
Dashlane Business is their advanced plan, which provides all of the features of Dashlane Team, with additional enterprise functionality. This includes support for SAML-based single sign-on, which allows users to sign into Dashlane with their SSO credentials, allowing for an even easier user experience.
Dashlane Business also provides every user a free premium Family account, giving up to five family members of each employee access to their own secure password vault, with premium Dashlane features, free of charge. Dashlane Business pricing starts at $8 USD per user per month (billed annually), also with a free 30-day trial which you can start here.
Both Dashlane Team and Dashlane Business offer extensive, high-quality customer support, with a customer success manager, live chat, 24/7 support via email, and support with technical onboarding if needed.
Both Dashlane Team and Dashlane Business offer extensive, high-quality customer support, with a customer success manager, live chat, 24/7 support via email, and support with technical onboarding if needed.
---
---
Dashlane Features
Password Vault
The key feature in Dashlane's service is the password vault itself. If users can't easily create, manage and access passwords when needed, they'll avoid using the service altogether and continue to rely on weak passwords.
Dashlane's password vault has an accessible and easy to use interface that allows users of any technical ability to easily manage their passwords. The vault is stuffed with a whole range of useful features that makes managing passwords more streamlined and intuitive.
The first step to getting a password manager set up is adding your existing passwords to the system. You can manually import passwords individually, or import multiple passwords in bulk directly from your web browser or from a CSV file.
You can also import passwords as you naturally browse the web. With the Dashlane browser extension installed, passwords will automatically be added to the secure vault as you access different accounts, ensuring that you'll quickly have a repository of your key account passwords in one secure location.
Finally, you can enable Dashlane's inbox scanning feature, which searches your email inbox for any passwords you've sent and adds them to your vault. This is a great feature on two levels: firstly, it makes it easy to locate and import your passwords. Secondly, it highlights to users where there are any passwords hiding in their inboxes, ready for hackers to find in the case of an email compromise attack. With this information, users can take steps to permanently delete any password records from their inboxes.
From within the password vault, you can also generate secure passwords with a defined number of characters, or special characters that will make it almost impossible to crack. These secure passwords can be copied and used when creating new accounts, which will then be automatically populated in the password vault when using the browser extension.
The second important feature of the password vault is being able to access the passwords when needed. To access your password vault, you need one secure master password. We advise that this password should be fully unique, and stored securely, so you don't lose access. Admins are also able to enforce two-factor authentication to Dashlane Team/Business to ensure that password vaults are protected against hackers. To make 2FA easier, Dashlane is compatible with mobile authenticator apps or user authentication keys.
Users can log in to the Dashlane password vault from any device, at any time. All passwords are stored on locally on the device, and fully encrypted with Dashlane's secure architecture and AES 256-bit encryption and PBKDf2 hashing to prevent brute-force attacks. On supported devices you can also log-in with biometric controls like a fingerprint or face scan.
Once in the system, retrieving passwords is incredibly easy. You can go in and manually copy and paste passwords as needed, or if you have the mobile app (available on both iOS and the Google Play Store) or browser extension, passwords will automatically pop up in the password box when you are logging into an account. You can sort these passwords by category or use the search function to quickly find the passwords you need.
Dashlane automatically provides a safety score for each password, letting you know if the password you're using is weak or if you've used it for another account. Weak passwords will display a warning message advising you to change the password, usually with a link to the website where you can reset your account details. Dashlane also scans the dark web and monitors password breaches to let you know if you need to change passwords that have been compromised.
Alongside passwords, Dashlane also allows you to store encrypted secure notes and personal information, including social security numbers and receipts, payment information like credit card details, and even your personal ID, within the secure vault.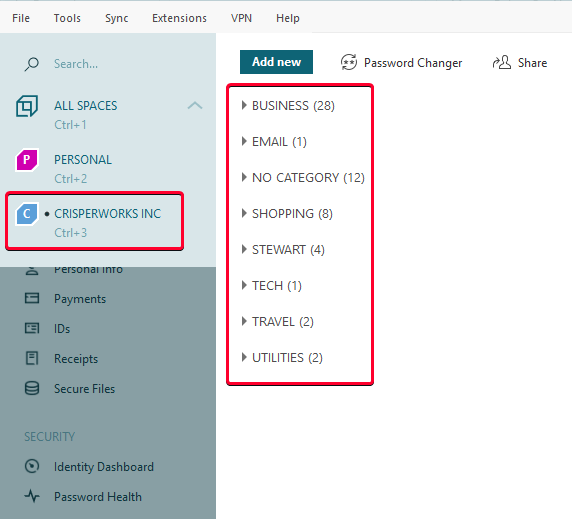 Many users will of course prefer not to mix personal information with their work passwords, so Dashlane Business customers have access to a nifty "Smart Spaces" feature, which isolates personal passwords and notes from work related accounts. This is a great feature, which sets Dashlane apart from some other competitors in the password management space.
---
---
Secure Password Sharing
We're often told never to share our passwords with anyone but, at work, it's often unavoidable. Sometimes, companies have to share one account between multiple users and when this is the case, it's critical that account credentials are shared securely.
In the office, these passwords might be jotted down in a notebook, or on a post-it stuck on your PC. While working from home, you might be using a shared Excel file, or simply sending the password back and forth on Slack or Teams as needed.
The problem with this is that your passwords are not secure, making it far easier for a cyber-criminal to gain access to your company accounts. It also means that IT admins have no oversight into who has accessed an account, and when. If there is a data breach or hack on a shared account, IT teams will have no idea how the account was breached, or which users were compromised.
Dashlane helps to solve these problems by providing a tool for secure password sharing. There are two ways you can share passwords using Dashlane. The first is most useful when sharing passwords with individual colleagues. You can simply locate the item you want to share from the Passwords or Secure Notes section of the vault, select share, and type in the email address of the person you want to give access.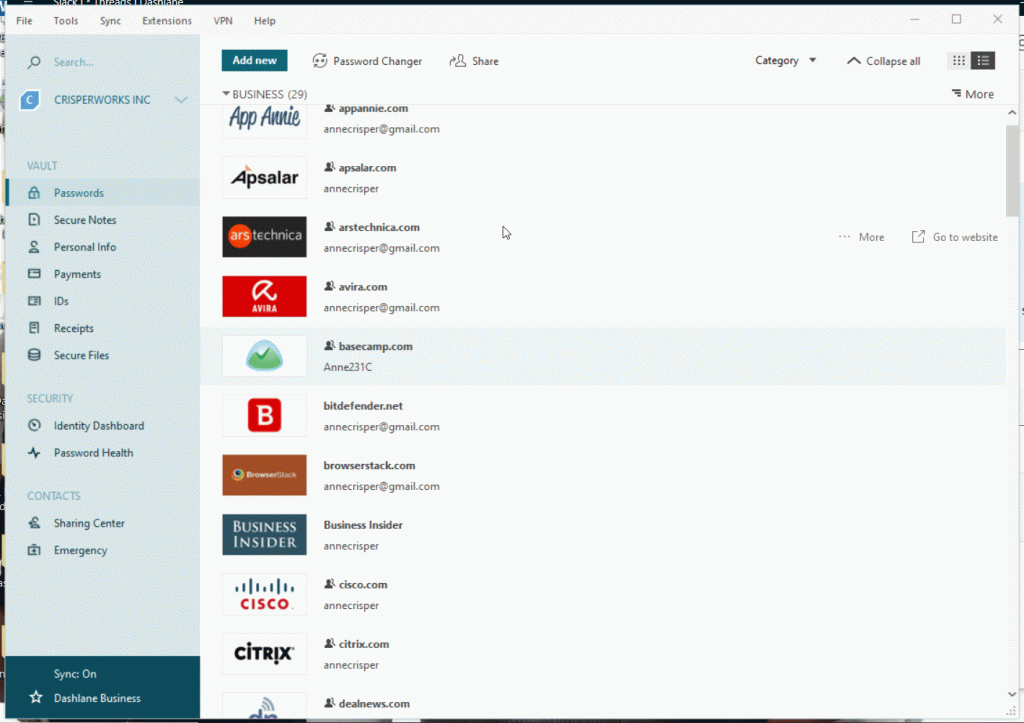 The second way is via Dashlane's Sharing Groups, which allow you to easily share multiple passwords across teams and departments. This means that your marketing department for example can easily share access to social media accounts, and new employees can immediately get access to the accounts they need. Admins can create these sharing groups among departments, and easily add and remove users once they have been created.
When you are in a sharing group you can simply select a password or secure note and share it with any other user in the group. You are in even able to specify the level of security applied to the password, with the option of allowing read-only access, or full access to change and share the password.
Once you share the password, it will appear automatically in the other group members' secure password vault, with a special icon to indicate the password is shared. In your own password vault, you can see all the users with access to shared passwords in the Password Centre.
This way of securing passwords is extremely secure, with passwords fully encrypted until they are accessed by verified users with a unique private key which is used to decrypt data. This is tied to the master password – so accessing shared passwords is easy as logging into your password vault. Admins are able to edit groups in the admin console, where they can also track changes and view reports into where passwords are being shared.
Admin Console
One of the most important features for an enterprise password manager is an intuitive and easy to use management console. Dashlane's console is fully cloud-based and very easy to use; it's also packed with useful features to simplify managing enterprise passwords. From a single central console, admins can manage policies, onboard users, view password health scores and view billing information.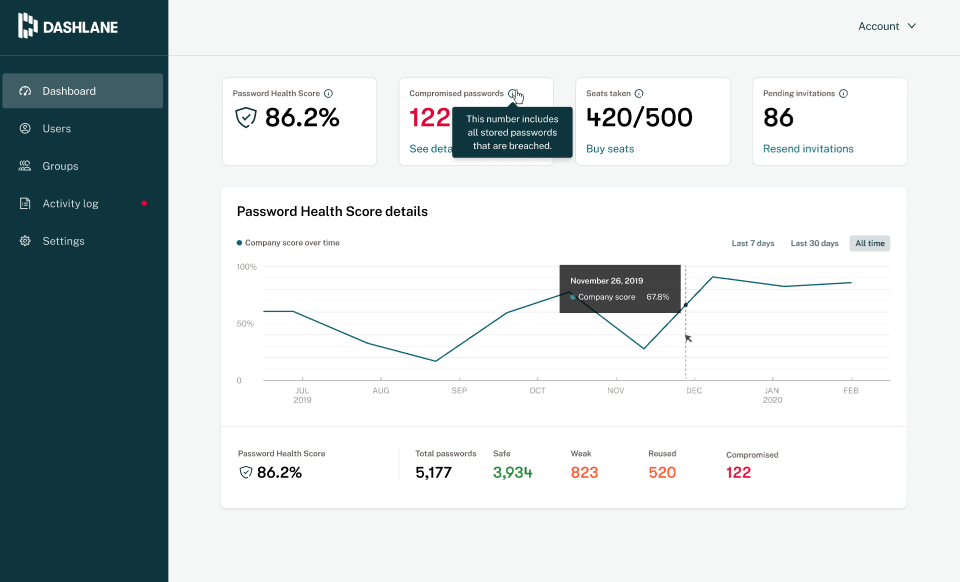 As an admin, from the Dashboard, you can immediately see the average password health score for your organization, the number of compromised passwords, your number of users and any pending invitations to join the platform. You are also able to view how your company score has changed over time, to pinpoint when compromise has occurred and remediate against it.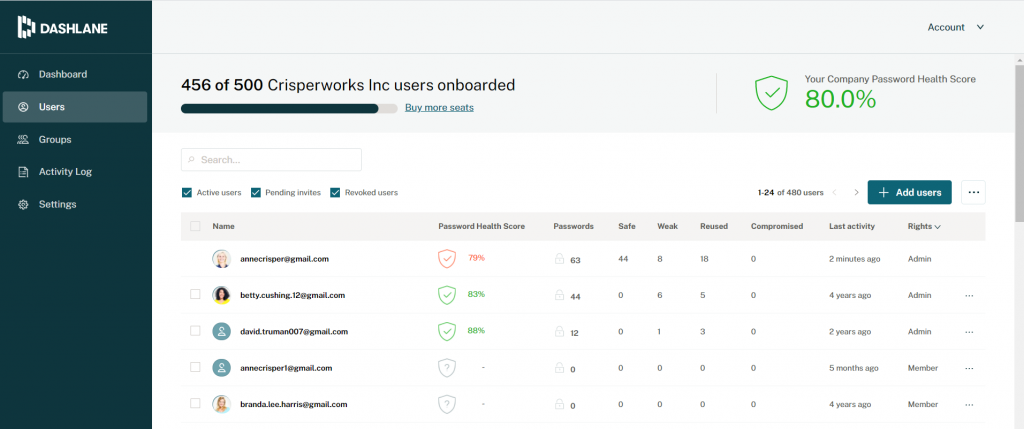 From the Users tab, you can add new users to the system, as well as monitor the health score of individual users, change account permissions, and view recent account activity.
From the Groups page, you are able to create and manage different groups. Within these groups, users can share passwords and notes easily and securely with everyone else in their team. In the Dashboard, you can name and edit these groups, add and remove users and delete groups if needed.
In the Activity Log you can view a series of reports into recent activity made by the admins, including adding and removing users and editing smart groups. From here, admins are also able to confirm account resets and recover accounts for users.
Finally, in Settings you can manage users, configure policies, and configure business domains. These include setting up business domains, removing company items from employees who have left the organization, disabling auto-login and auto-fill on certain websites, managing encryption standards, setting emergency contacts, enforcing 2FA and an option to set up the Dashlane VPN. You can also set recommended password policies about password lengths and how often they should be updated.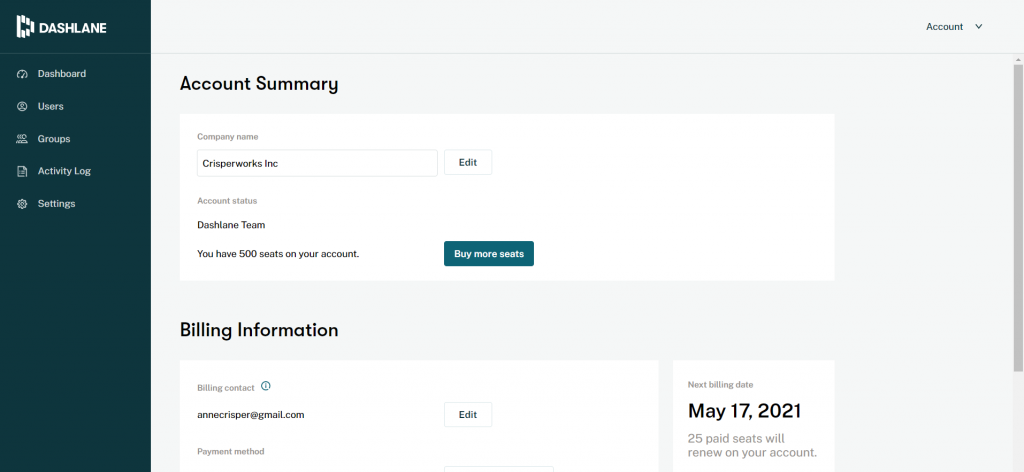 You can also manage billing options from the admin dashboard. This includes options to view and edit billing information, buy more seats, manage payment methods and view your invoices all from one centralized location.
Deployment
Deploying a password manager needs to be easy, for both the end users and the admins. Dashlane's set up process is straightforward, so it's easy to onboard users and to get started using the system.
Firstly, if you're using Dashlane Business, you can set up 'Smart Space Management' which assigns all company passwords to your business domain. This means users' personal passwords will be separated from their business accounts.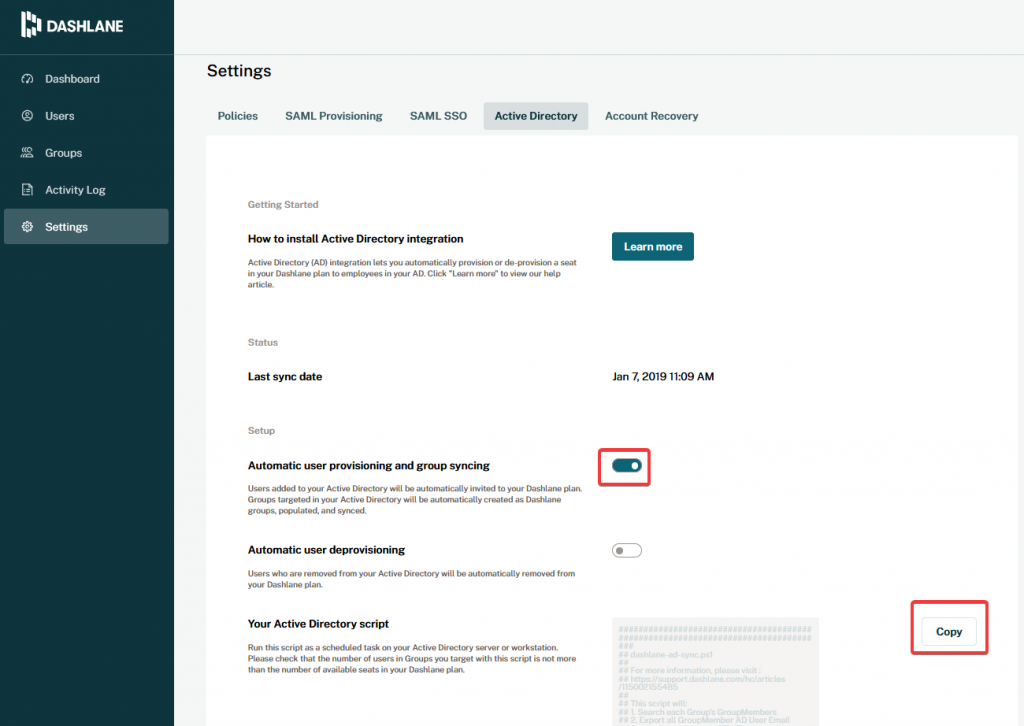 Once that's set up, onboarding your users is extremely easy. If you're using something like Office 365, you can use Microsoft's Active Directory to automatically send out an onboarding email to new users. You also have the option to manually onboard users or bulk upload users using a CSV file. You can also provision users with SSO on the Business plan.
When you onboard users, a customizable email will be sent out to them with an invitation to join the system. Users then choose their master password, sign into the service, and they're ready to start storing passwords securely.
Security Architecture And Encryption
Dashlane is a highly secure service that takes pride in being one of the few password management companies never to have experienced a data breach. The technology is built on their US patented security architecture and strong AES-256-bit encryption.
Dashlane takes the protection of user data very seriously. The master password to password vaults is never stored on any Dashlane servers or sent over the web, and is by default also not stored locally on the user's device, though the user can change that if they're worried about forgetting their master password. On top of that, a unique user device key is generated every time a user logs in on each device to ensure maximum security for stored passwords. Encryption and decryption keys are stored locally on devices, so if there was a data breach at Dashlane, your account passwords would remain protected. Dashlane also supports 2-factor authentication to add an extra layer of protection against phishing attacks or password theft.
If the master password is lost or stolen, Dashlane allows users to reset their password and recover password data, but only when using a trusted device, to prevent any unauthorized access. Admins are able to activate this for employees within the admin dashboard.
Dashlane has created a comprehensive white paper detailing how their encryption standards and security architecture works, which you can read here.
Support
Dashlane offers high quality technical support to help you deal with any issues that could arise when using the service. This includes a detailed and comprehensive support console, which covers a wide range of FAQs, technical documentation and deployment guides, which can be accessed here.
Dashlane also provides a customer success manager for your business, live chat support, 24/7 support via email, and support for technical onboarding. Dashlane provides the same level of support for both Dashlane Team and the premium Dashlane Business service.
Expert Insights
Dashlane Business is a highly secure enterprise password manager that enables users to easily and securely store and retrieve passwords whenever they need to.
From an end user perspective, the password vault and password sharing features are very intuitive and don't require any extra training prior to use. Adding your existing passwords is really straightforward – especially when using the browser extension which automatically adds your passwords to the vault as you search the web.
Retrieving passwords is just as easy, with an auto-fill feature that means your passwords appear when you need them, on a desktop browser, or on mobile using the Dashlane app. You can also share passwords with your colleagues, and admins can set up password sharing groups so you can easily share a key password with your whole department, securely.
Aside from the core functionality of the password manager, Dashlane offers some other great features. The password health evaluation and dark web scanning makes it easy for both end users and IT admins to make improvements to password security, and deal with any passwords compromise incidents before they can lead to a data breach.
Dashlane is popular with customers, who praise the service for its ease of use, support, and extra features, like the ability to store credit card information and notes in the secure vault. It's also worth noting that Dashlane is a highly secure service, that at time of writing is one of the few password managers that have never been the target of a successful data breach.
Dashlane offers high quality support, and their solution is competitively priced. Feature wise, Dashlane stacks up well to other password management services, and it's are a strong solution for organizations of all sizes and industries that are looking for an intuitive, easy to use dedicated enterprise password manager.