Reviews
Proofpoint: A Comprehensive Deep Dive
Proofpoint Essentials is a market leading Email Security solution. Is it the right fit for your organization?
6 min read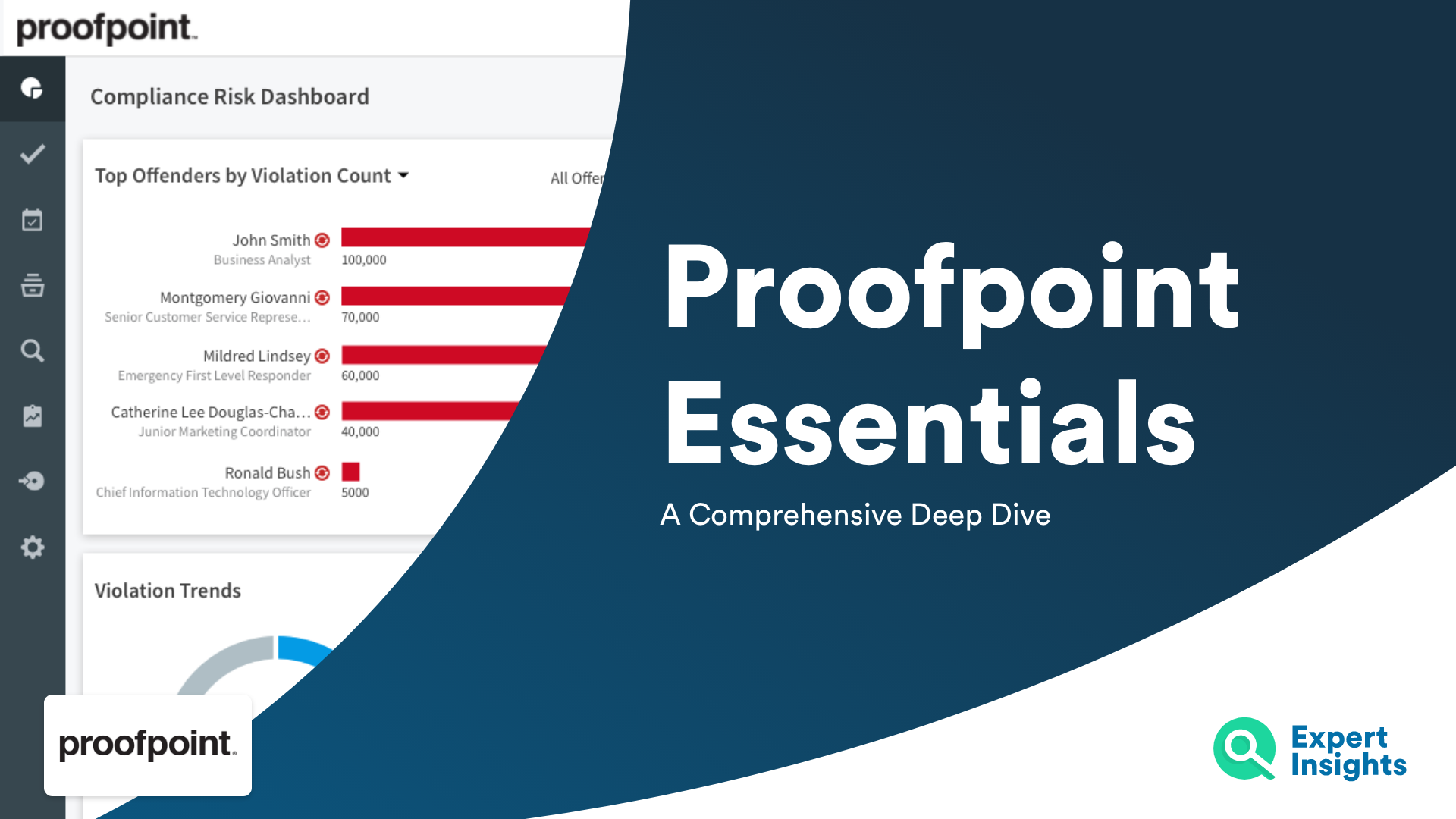 We publish unbiased review: our opinions are our own and not influenced by payments from advertisers. Learn about out independent review process and partners in our advertiser disclosure.
What Is Proofpoint Essentials?
Proofpoint is a market leading email security vendor, providing multiple solutions across a range of email threat vectors. Proofpoint are a popular choice for small and midsized businesses, with their SMB focussed Essentials platform.
Proofpoint Essentials protects small and medium-sized enterprises from advanced threats, compliance risks and digital fraud. It offers enterprise-grade security technology and infrastructure—used to protect some of the largest organizations in the world—tailored to the needs of smaller enterprises.
The core functionality of Essentials provides protection against email attacks, protection for sensitive data sent via email, and continuity for businesses in the event of an email outage.
Proofpoint Essentials includes a range of email security features designed to improve the overall security efficacy of your organization.
How Does Proofpoint Stop Email Threats?
The core functionality of the Proofpoint Essentials platform is it's Secure Email Gateway product. The main need of Proofpoint Essentials is improving the security of emails for users with on-premise email infrastructure, or users of cloud based email security such as Office 365 or Gmail.
The Secure Email Gateway works by combining multiple security technologies at the perimeter of the email network, to identify threats, and stop them from being delivered.
---
Setup a 15-Day Trial of Proofpoint Essentials
Start Trial
---
Proofpoint Essentials Key Features
Security
Proofpoint provides industry leading protection against targeted attacks, ransomware, malicious attachments, malicious websites, BEC and other unwanted mail.
Continuity
Essentials protects users from impact of email outages. It allows users to access their email archive, and replay emails that have lost or accidentally deleted.
Email Archive
Proofpoint Essentials offers a fully features 10-year email archive, to retain emails for compliance and regulatory reasons.
Management
Essentials provides multiple management features to help you use the service, including multi-level logins, comprehensive logs and reporting, and integrations.
Why Choose Proofpoint Essentials?
As you will know, there is more to a security service than the features it offers. So why do customers choose Proofpoint Essentials?
Multi-Layered Email Protection
Proofpoint offers a strong level of security efficacy with its multi-layered email security solution. As one of the largest vendors in the email security market, Proofpoint uses the enterprise class security it provides to some of the largest organizations around the world to power the SMB focussed Essentials product.
The Email Gateway is built on a multi-layered stack of Proofpoint's own anti-virus, anti-spam and phishing detection engines, which provides strong protection against email threats. All of your emails are scanned by Proofpoint's engines in real time, before they are delivered. This automatically catches and blocks email threats.
Admins can see detailed breakdowns of this, so they can determine where email threats are coming from, and be able to better improve the security posture of the organization.
Advanced Threat Protection
Proofpoint's URL and Attachment sandboxing provides protection against advanced attacks such as phishing and spear-phishing.
Using sophisticated anti-virus and sandboxing, Proofpoint checks links and attachments in real time to prevent users from opening malicious email attachments or visiting phishing websites that attempt to trick users into installing malware or giving up account credentials.
Data Loss Prevention and Content Filtering
Essentials provides content filtering policies on outbound email to help prevent data loss. Using policy driven filters, admins can ensure that users aren't sending out private information or sensitive documents via email, especially outside the organizations.
This is important for businesses to remain complaint, especially in the context of data regulations such as GDPR. Proofpoint allows you to automatically secure identify and manage outgoing sensitive information.
Business Continuity
Essentials provides email continuity, so that in a disaster situation where your network goes down, you can still continue to send and receive emails, without losing productivity.
This is crucial, especially for those using on premise email networks. Proofpoint's emergency inbox allows users to continue to send and replay email, instantly replay any email that may have been lost or accidentally deleted, and provides email spooling.
End User Management
Proofpoint can be configured to allow end users to access their own quarantine, email archive and, manage their allow/deny lists, which helps to save IT departments time.
End users can request quarantined emails to be delivered, which Poofpoint allows after the email is scanned and found to be safe. Users can also block senders, helping to reduce greymail and improve business productivity.
Proofpoint Use Cases
Stopping Spam Emails
Most readers of this article will probably receive about 120 emails in a single day, according to DMR. However, just under half of those emails are likely to actually be spam. Spam makes up 45% of all emails sent in 2019, a staggeringly high percentage, and a real problem for businesses.
Spam comes in many forms, whether outright malicious, or simply GreyMail (marketing emails that aren't actually malicious, but are a nuisance, like newsletters), but either way they are a strain on productivity and business resource.
Dealing with the challenges of spam is a big problem for IT departments, from the smallest businesses right up to large enterprise. Stopping spam is one of the main use cases of the Essentials platform.
Essentials provides admins with the ability to set anti-spam policies at an organization-wide, department-wide, or at a per-user level.
Admins can configure the strength of their anti-spam policies using on a scale of 2-22. The default level of spam filtering is 7, which the vast majority of spam emails, but this can be tuned to be more or less aggressive based on the needs of your organization.
Admins can also whitelist and blacklist specific domains, so if there is a specific domain you have identified as being the source of being spam, you can easily block it all. Conversely, if there is a domain which is being blocked as spam, you can easily allow that domain, and stop Proofpoint from blocking those emails.
Managing Multiple Customers
An important use case for Managed Service Providers (MSPs) is the ability to see all the clients you currently have using the service in one admin panel, and be able to easily manage and deliver support to each one.
Proofpoint provides a comprehensive management portal, which displays all clients on the service, with access to their reporting, spam settings, per-user controls and the archiving and continuity settings.
This means you can easily help IT admins to configure the system to their needs, and you can help to troubleshoot if anything goes wrong, easily.
Comparing Proofpoint With the Competition
Getting an accurate sense of how advanced one email security product over another can be difficult. SE Labs conducted research comparing Proofpoint with other email security vendors, with the results being as follows:
Executive Summary
Tested
Protection Accuracy Rating (%)
Legitimate Accuracy Rating (%)
Total Accuracy Rating (%)
Symantec Email Security.Cloud with ATP
97%
100%
98%
ProofPoint Essentials Advanced
98%
97%
98%
Fortinet FortMail Cloud Gateway Premium
92%
100%
93%
Microsoft Office 365 Advanced Threat Protection
20%
95%
35%
Microsoft Office 365
-15%
100%
8%
Here, Proofpoint is the second most accurate email security solution when it comes to identifying spam and malware, and importantly it is the only solution on the list aimed primarily for small, mid-sized and MSP products.
You can also compare Proofpoint with competitor email security solutions by reading verified customer reviews of Proofpoint and it's competitors at Expert Insights.
Proofpoint Essentials Pricing
Proofpoint Essentials is broken down into four packages which each include different features. You can see the package breakdown below:
| | Beginner | Business | Advanced | Pro |
| --- | --- | --- | --- | --- |
| Price, Per User, Per Month | $1.50 | $2.75 | $3.75 | $5.33 |
In terms of per-user pricing, Proofpoint is cost effective. It's 50% cheaper than comparable competitors, and can save businesses a considerable amount of money through improved security efficacy.
Expert Insights on Proofpoint
Proofpoint Essentials is a strong solution for email protection, encryption, archiving and continuity, delivered as a single platform, with a single admin console. Proofpoint has excellent security research, ensuring they deliver strong threat protection, which has consistently scored highly for accuracy in tests against competitors. Proofpoint provides effectively blocks spam, with granular admin control over the strength of the spam filters.
Essentials is a cost-effective solution, with many features such as archiving and encryption included as part of the Business package that would otherwise be expensive add-ons. Essentials provides a range of reports and logs to give you more control and awareness over your email network. Proofpoint's admin console is modern, providing granular controls and improved threat reporting.
With Essentials, Proofpoint provides smaller and mid-sized organizations with enterprise class email security. It's an ideal solution for smaller teams and for MSPs, with easy set-up, deployment, and competitive pricing.
---
Setup a 15-Day Trial of Proofpoint Essentials
Start Trial