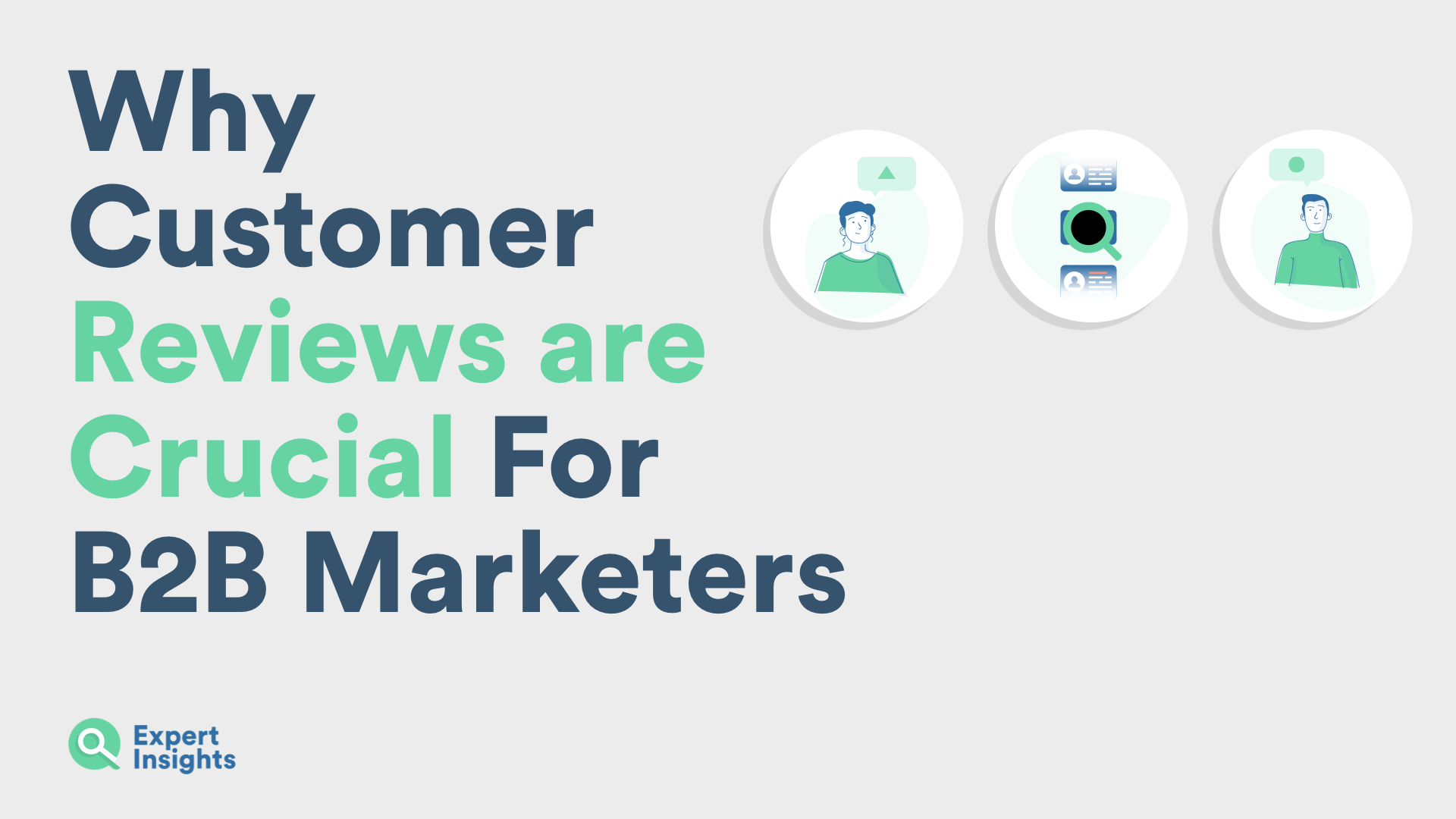 Resources
Why Customer Reviews Are Crucial For B2B Marketers – Especially In Cyber Security
End User Reviews are a great way to build trust and improve brand awareness and market visibility. Here's why.
Expert Insights / May 13, 2019
By Joel Witts
Reading customer reviews has become a cornerstone of the online buying process.
If you're shopping for a product or service online, you'll most likely find hundreds of useful online customer reviews. We now live in a review economy. When was the last time you bought something new without reading any reviews of it?
We expect to be able to easily find how other people in our position felt when buying. A recent survey found that 86% of customers read customer reviews before buying.
You may think that customer reviews are more suited to consumer marketing, but that's not the case. Surveys have found that 92% of B2B buyers are more likely to purchase after reading a review and 67% of B2B buyers believe that looking at peer reviews helps them to make the right buying decision, according to a Demand Gen Report in 2017.
Incredibly, this study also found that only 34% of B2B buyers trust what vendors are saying about themselves. That means that the vast majority of people are looking for trusted third parties to find out more about the solution they are considering to purcahse.
End user reviews are a key way to provide this to your potential customers. This is especially true for Cyber Security vendors. Building confidence in potential customers that your product is reliable, secure and does the job well, is crucial for vendors in the Cyber Security space.
However, despite this, only 1 in 5 B2B marketers are using end user reviews in their marketing strategy (G2 Crowd and Heinz Marketing).
That means they are missing out on some great benefits provided by end user reviews:
Increased trust and credibility among buyers
As the stats above show, the majority of customers put more faith into peer customer reviews than the vendor's own marketing materials. B2B Customers are critical thinkers, especially in the cyber security space.
Cyber Security Marketers can have a hard time communicating the benefits of their products to these skeptical customers, but end user reviews are the perfect avenue to do just that. Research has found that 84% of people trust end user reviews as much as they would an in-person recommendation.
Embracing and promoting end user reviews, from all ranges of opinion, allows you show that you care about what your customers are saying. It ultimately shows your prospective clients that you are a trustworthy company, that is happy to show what your customers really think.
It also gives your potential customers a unique and trusted perspective into how your product works and what they should expect when they buy your solution, from an objective source. This puts your credibility far ahead of vendors using more traditional methods of marketing in the eyes of potential customers.
Building brand awareness
Using end user reviews can improve your brand awareness dramatically. Within the buying process surveys have found that 47% of B2B customers look for end user reviews when they are in the awareness stage.
For a customer in the Cyber Security sector having an issue with phishing emails for example, looking at end user reviews is an important step in coming up with a shortlist of services they want to trial. This is reflected by what we see on Expert Insights. Customers will often come in and compare multiple products, using end user reviews as a way to filter the products they want to consider further.
Improved SEO and increased visibility
Using end user reviews in marketing will also help maximize visibility of your solution. Google ranks end user reviews highly and it can have a very positive effect on your SEO rankings. If you regularly embed end user reviews on your website, Google will see your site as being more authoritative and relevant and push up your page rankings accordingly.
Your product will also rank higher if you get listed on a review platform. Expert Insights is a review platform specifically for B2B Cyber Security services, but there are other options like G2 Crowd and Capterra. Review sites like these host end user reviews from customers, and Expert Insights also provides detailed product information to help customers even further. These platforms typically rank very highly on Google, as they are seen as authoritative third-party directories. Getting listed on one of these platforms could help you generate more customer interest in your service.
Enhanced Market Positioning
Having end user reviews of your platform can give you a real edge over competitors. If you have lots of positive reviews, there's a clear reason for customers to trust that your solution is better than a competitor. Cyber Security B2B buyers have hundreds of different vendors to choose from and they use end user reviews as a resource to shift through the products and find the one that's right for them.
Given that it's likely that only 1 in 5 of your competitors are using end user reviews in their marketing, promoting the reviews of your customers will put you ahead of the curve. Reviews can help to show how you're a market leader, with strong customer feedback to prove it.
This doesn't just mean promoting positive reviews either. Studies show that 67% of customers want to see a mix of positive and negative reviews. Having a mixture of both helps the customer to build more trust and helps you to build stronger relationships with readers.
If you are looking to enhance market positioning with end user reviews, volume is key. Research into online buying psychology tells us that buyers have a popularity bias. If a buyer is comparing two solutions, they are more likely to buy the product or service with more reviews.
The benefits user reviews have on market positioning can be seen on review platforms like Expert Insights. Those solutions with the most reviews and best scores from users rise to the top of the rankings and become the top choices for customers looking to buy.
Gaining Market Insights
One of the lesser discussed benefits of encouraging end users to write reviews and using them in your marketing is that you get to learn more about what your customers like and don't like about your service.
End user reviews gives you the opportunity to see what customers love about your service. If you see multiple customers praising your customer support, of the effectiveness of a certain feature, you can use this to great effect in your marketing. As we know, customers trust what other customers say, so being able to take real customer praise and use it on your website is a huge benefit.
On the other hand, if you see a trend within customer reviews of customers wanting to see a new feature, or wanting some functionality improved, you can take it as an opportunity to connect with buyers and let them know that you are working to meet their needs. If you are missing a feature that customers want, you can respond to reviews and let them know you are working on adding it or improving it.
Potential buyers love to see companies building these relationships and working with customers to improve and their service. End user reviews are a great starting point to working with customers to achieve this.
Higher Conversion Rates
Arguably the most important and most tangible benefit of end user reviews is higher conversions and increased sales. The reality of B2B marketing is that not having any end user reviews on the web is a barrier to sales.
Data shows that 92% of customers will be unsure about making a purchase if they don't see any customer reviews. If there are no reviews of your solution to be found on your site, or on a third-party review platform, customers may be looking elsewhere for a solution.
It's proven that the more reviews you have the more conversions you will start to generate. Research shows that end user reviews can increase conversions by up to 270%. Even having bad reviews of your platform increases conversions by 67%!
For high cost services that represent a big investment for businesses, like many Cyber Security platforms, research shows that end user reviews being featured in marketing can increase conversions by an incredible 380%.
Summary
Everything we know about the power of end user reviews in the buying process tells us that it's an absolute no brainer to be utilizing your existing customers to help you reach new ones.
There are a huge amount of unique benefits to generating end user reviews, and if you want to see success in your online marketing, end user reviews should be a big part of your campaigns.
Getting an end user review campaign off the ground can be quick and easy. You can start generating reviews from your customers, or work with review platforms like Expert Insights who can help you generate and cultivate high quality user reviews.
Get Listed
To get started with Expert Insights click here to get your product listed. It's quick and easy and you can start generating end user reviews in minutes.
If you want more information, get in touch with us here: https://www.expertinsights.com/contact to find out how we can help you increase conversions with end user review campaigns.
---
About Expert Insights:
Expert insights is an independent review platform for Cyber Security services. They offer to readers detailed and meticulously researched product information written by industry experts, and independent end user reviews. This helps customers looking for cyber security services make an informed buying decision.