In 2020, organizations around the world scrambled to enable their employees to work securely from home. For MSPs, this meant finding new, mobile-friendly ways of troubleshooting IT security incidents across their clients' networks, which had transformed from traditional office spaces into complex off-site and hybrid cloud environments. This shift means remote monitoring and management tools are more critical to the MSP market than ever before.
Remote monitoring and management (RMM) platforms, also known as remote IT management or network management, enable MSPs to monitor their client's networks and endpoints from any location, at any time. Clients benefit from effective risk monitoring and mitigation with little system downtime, and MSPs benefit from more consistent revenue and high levels of customer satisfaction.
In this article, we'll compare two market-leading RMM solutions: N-able N-central and ConnectWise Automate. We'll give you a high-level overview of each vendor and their solution, before delving into the key features of each to help you find the best platform for your business and your clients. Note that both N-central and Automate include features outside ones mentioned in this article, but we feel those discussed below are the most critical and relevant to MSPs looking to implement an RMM solution.
What Is N-able N-central?
N-able offers a range of monitoring, security, and business solutions to help MSPs support their clients more effectively, while simplifying the task of managing their own business. N-central is the company's flagship RMM platform, which gives MSPs the tools they need to proactively monitor and manage their clients' endpoints to resolve issues before the client realizes there's a problem.
Key features of N-central include powerful automation tools that simplify the processes of onboarding and configuring devices, plus a feature to simplify managing patches across those devices via a single interface. From the central console, administrators can access a clear visual representation of their clients' networks in order to be able to quickly detect any changes. The N-central console also generates a variety of reports that enable admins to identify problem servers, review alerts or issue tickets, and provide IT support on the go. These reports are a constant source of customer praise, along with the user-friendly interface and easy configuration.
In addition to its core RMM capabilities, N-central offers a strong suite of security tools to help MSPs protect their clients' data. These include firewalls, web filtering, file backup and recovery, and powerful endpoint detection and response (EDR) capabilities. The impressive selection of features, coupled with its tight integrations, make N-central one of the most popular RMM solutions on the market, particularly among those MSPs currently using Microsoft Intune® or Cisco Meraki® for device monitoring, and those looking for a solution that will scale as they grow.
What Is ConnectWise Automate?
ConnectWise is a leading vendor in creating software for technology solution providers, or TSPs. Automate, formerly LabTech, is the remote monitoring and management solution ConnectWise offers to enable TSPs to proactively support their clients and monitor client networks. The remote session capabilities of Automate make it particularly strong in this area, giving admins the tools to be able to access a client device as though they sat in front of it.
Customers praise Automate for its user-friendly scripting and automation, which enables them to detect assets connected to client networks, allowing for quick management and enhanced accountability. The solution also comes with out-of-the-box, configurable patch management for Windows® and third-party software. From the central console admins can generate reports that act as a single source of truth for remote session auditing, device management, and technology status analyses.
Its strong set of remote management and reporting capabilities make Automate a popular solution among solution providers, and particularly those in the small to mid-sized market.
Feature Comparisons
Remote Monitoring
Remote monitoring is one of the most crucial features of an RMM solution—it's right there in the name. MSPs need clear, comprehensive visibility into their clients' networks to be able to detect any issues and respond efficiently. This requires the ability to remotely control all desktops, laptops, mobile devices, virtual machines, servers, and internet of things (IoT) devices connected to that network. It's also important this visibility be as close to real-time as possible for efficient resolution of any issues that come up, so clients experience as little down time as possible.
With N-able N-central, IT admins are given full visibility into client networks and their devices regardless of physical location, operating system, or platform. Admins can configure alerts to notify them of any potential issues in a network, with automated responses to resolve issues quickly and effectively. These alerts include device health and performance checks, and information on security events, such as malware being detected by a system scan.
With the included integration of Take Control remote access, N-central users can assist clients in real time to get a better understanding of any issues. Admins can also upload files and scripts, use PowerShell® commands, and access internal system processes without making an on-site visit. For trickier problems, admins can take full remote control of devices in a client's network, allowing them to quickly resolve issues while causing minimal disruption to the end user. Support sessions can be recorded, including transcript generation, which enables complete visibility for auditing purposes and allows the MSP to improve client support processes.
With ConnectWise Automate, admins can configure their own custom alerts or choose from a library of templates for alert actions and rules. Alerts can be configured at a granular level to perform different actions depending on the time the alert is received; for example, the same alert can perform different actions during the day and at night.
Automate also enables admins to resolve client issues via remote control sessions and provides them with access to a single source of truth for monitoring and reporting these sessions via their central dashboard. The Automate remote monitoring functionality is compatible with agent and agentless devices as well as virtual machines, providing admins with the tools they need to effectively troubleshoot across VMware® and Hyper-V® infrastructures. Each time a remote-control session is initiated, Automate creates a log of who has connected, when, and for what reason. Automate also generates and stores video recordings of remote sessions, which can be used for auditing purposes as well as accountability.
Summary: Both N-central and Automate feature comprehensive network monitoring capabilities, including customizable, granular alerting. Both solutions also enable admins to troubleshoot issues across their clients' networks at various levels of complexity, from generating automated responses for smaller issues to taking full remote control of client devices for more complex challenges.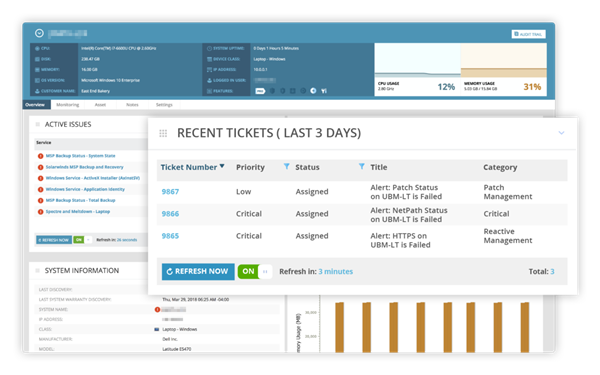 Reporting And Analytics
A central management console with a user-friendly interface and robust reporting features is a core component of an RMMsolution. Admins need to be able to configure their support services across multiple clients, each of whom may have hundreds of devices connected to their network, which means clear management processes are crucial. MSPs also need to be able to provide their clients with demonstrable proof of their value, so an RMM solution must offer detailed reporting capabilities.
With the N-central report manager, located within the central management console, admins can create custom reports for specific clients or choose from over 45 premade reports to demonstrate value in a variety of areas, including high-level overviews of a client's network security and infrastructure, status reports on patching and device capacity, and reports on the status of help desk tickets. These reports can also be used to help the MSP improve their own business operations; for example, by checking the efficiency of their issue responses. Admins can generate each report as a PDF, Microsoft Excel®, or Microsoft® Word document, as well as add their own company branding and logos.
N-central also features a comprehensive mobile manager, which makes onboarding and managing mobile devices quick and straightforward. Using the mobile manager, admins can monitor and manage updates across mobile devices connected to their clients' networks, including updating applications installed in those devices. In case of an emergency, they can also configure password resets, control remote device wipes, and locate lost or stolen mobile devices to mitigate the associated security risks.
The ConnectWise Automate management console features a report center where admins can generate detailed, up-to-date reports for storage inventory, network assets, and device performance across their entire client base. They can choose from a range of standard out-of-the-box reports, or customize their own via the report designer. Once an admin creates a report, they can deliver it manually to recipients, or automate and schedule batch deliveries to continuously demonstrate the value the MSP is bringing to their clients. All reports can be emailed or exported as a file.
Automate has partnered with IBM® MaaS360® to enable MSPs to monitor and manage clients' mobile devices. MaaS360 leverages AI-driven analytics from IBM to detect, prioritize, and resolve security issues across mobile device fleets. From within the MaaS360 portal, admins can generate reports into device and application usage, configure single sign-on (SSO) and app-level tunneling, as well as configure access and usage policies for all managed mobile devices. Automate doesn't currently integrate with MaaS360, so admins need to manage mobile devices through the MaaS360 portal.
Summary: Both N-central and Automate allow MSPs to generate detailed, relevant reports to improve their services, better monitor their clients' networks, and demonstrate their value. Mobile device management (MDM) is easy from within the N-central management console. Automate provides MSPs with powerful mid-market mobile management and security features via their partnership with IBM, but these features must be managed via a separate console.
Automation
Managing repetitive administrative tasks manually across hundreds of devices is time consuming and a waste of valuable technical resources. For this reason, powerful automation capabilities are integral to RMM platforms. Two of the most important tasks when it comes to automation are onboarding and patch management. When configured to run automatically, they help keep a client's network up-to-date and secure, while freeing the time of IT technicians to work on remediation, rather than repetitive administrative tasks.
N-central features a robust network topology mapping feature that makes it quick and easy for MSPs to discover and map the devices connected to their clients' networks. The topology map maintains an inventory of connected devices with regular automatic network scans, helping ensure client devices are thoroughly logged and audited. As well as supporting onboarding, the topology map allows admins clear visibility into any changes in routing, which supports more efficient trouble shooting.
ConnectWise provides simplified asset discovery via their automate discovery feature, which inventories both agent and agentless assets for easier device management. It does this by automatically scanning client networks and updating the MSP's record of supported systems and devices to provide a detailed log of supported devices and their current health. Once assets have been identified and inventoried, the Automate Network Probe Technology automatically deploys an agent to support those endpoints. This is particularly useful for creating group environments within a network.
For an additional fee, Automate integrates fully with Auvik® to provide a similar topology map of client networks. Once signed in to the Auvik console, admins can quickly view all endpoints connected to their clients' networks and easily configure automatic onboarding of new devices. However, this feature isn't included in the ConnectWise Automate solution itself, so MSPs looking for an automatic network mapping feature would need to invest in Auvik as a separate solution and manage the mapping console individually.
When it comes to patch management, the intuitive N-central patch manager engine makes updating and securing client endpoints a breeze. The engine includes built-in patching for Microsoft updates, offline networks, managed service stack updates (SSUs), cumulative updates, and feature upgrades. N-central allows admins to set patch auto-approval delays per customer and automatically applies service templates to client devices without the need for any scripts. However, admins still have the option to create their own custom scripts via the drag-and-drop editor.
N-central users don't just benefit from automated patch management, but the automation manager feature provides MSPs with over 100 pre-written automated tasks to help create processes for a huge range of client use cases, without the need for complex scripting. These tasks include installing tools, generating reports, and deploying updates. As with the patch management engine, each one can be easily customized to meet a client's specific needs via the drag-and-drop editor.
Through its patch management tool, Automate allows MSPs to provide their clients with daily third-party software updates to help ensure their systems are running as efficiently and securely as possible at all times. The intuitive interface makes it easy to set up and configure automated patch deployment for a variety of business productivity solutions, including Microsoft, Adobe®, and Java®. MSPs can also integrate Automate patch management with their PSA billing process, which enables them to easily and efficiently bill for all third-party patch updates across all of their clients.
Summary: Both N-central and Automate give MSPs clear visibility into their clients' device fleets, and a quick and easy way of onboarding new devices, but the N-central network topography mapping feature excels in visualizing each client's network. Both platforms allow admins to configure and deploy third-party software patches, but N-central provides native feature upgrades, while the feature upgrades in Automate are scripted and require more technical know-how and effort to run.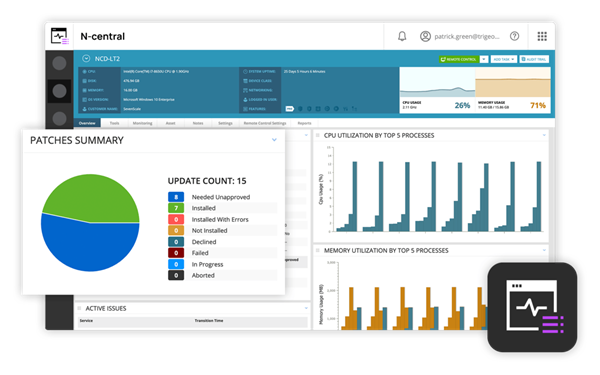 Integration
To get the most out of an RMM solution, it's important for it to integrate with an MSP's existing systems and technologies. Particularly useful integrations include those that make onboarding and offboarding devices easier and allow for seamless incident reporting between different security systems.
The N-able Technology Alliance Program (TAP) ecosystem allows N-central to support a range of third-party integrations to help its users get the most out of the platform. These include partnerships with vendors for security and incident management, reporting, and asset management and mapping. You can find the full list of TAP integrations on the N-able website , but we'd like to draw your attention to two in particular: the N-central integrations with Microsoft Intune and Cisco Meraki.
Part of the Microsoft Enterprise Mobility and Security (EMS) suite, Microsoft Intune is a cloud-based platform that enables organizations to better manage their mobile devices and applications. The partnership between N-able and Microsoft allows MSPs using Intune to discover devices and monitor and manage these devices from within their N-central dashboard. This central management capability helps reduce technician overhead and increase efficient issue resolution. It also enables MSPs to leverage the Intune mobile device management capabilities and security services, including Microsoft defender antivirus, to help provide their clients with a secure RMM service.
Cisco Meraki is a cloud-based wireless controller used to monitor and manage Meraki devices and services, such as routers, switches, and access points. The N-central integration with Meraki allows MSPs to easily monitor the health of Meraki devices as well as quickly configure their security policies from within the N-central dashboard. This means customers using Meraki devices benefit from the powerful customization, reporting, and security features in N-central, while MSPs can more easily and efficiently monitor the health of their customers' entire device fleet from one central location.
ConnectWise has partnered with a large number of market-leading cybersecurity vendors to help ensure their customers receive best-in-breed solutions for their business needs. Automate integrates seamlessly with 22 of these vendors, and integrations span a variety of market segments including business availability, IT management, CRM, and security. The security integrations in Automate are the most expansive, and they enable MSPs to easily and effectively monitor and manage a variety of endpoint protection services across their clients' device fleets from the central Automate management console.
Automate also integrates quickly and easily with ConnectWise Manage, their professional services automation (PSA) solution that gives MSPs the tools they need to manage core business processes across their client base. When Automate customers also choose to invest in Manage, they unlock a further library of ConnectWise integrations, most of which span the reporting, accounting, and operations market segments.
Summary: Both N-able and Automate host a library of tight integrations with their own product stacks and third-party cybersecurity vendors. Before investing in either RMM solution, we recommend you check whether they support integrations with the solutions you're currently using.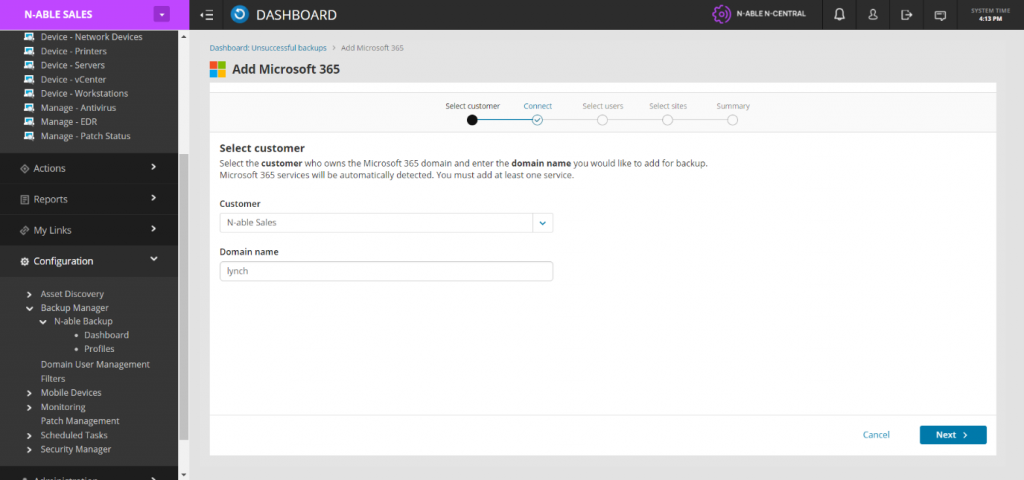 Security Features
N-central provides N-able Endpoint Detection and Response (EDR), powered by SentinelOne®, which allows MSPs to detect and respond to both known and zero-day threats facing their clients' networks. EDR uses powerful artificial intelligence engines and forensic analysis to scan client systems for malicious activity even when the endpoints are offline. Autonomous threat response helps ensure security incidents are addressed quickly, while automated rollback and recovery capabilities help protect clients' data in the event of a breach, such as a ransomware attack. For disaster recovery, N-central includes a built-in backup manager, which allows clients to safely store and archive their data in either an on-premises or cloud data center to help ensure minimal downtime.
Via the ConnectWise Marketplace, Automate customers can leverage a variety of powerful security solutions from market-leading vendors including Bitdefender®, Duo®, ESET®, Thycotic®, and Mimecast®. This allows MSPs to monitor and efficiently respond to threats across their clients' networks by integrating Automate. The wide range of products available on the ConnectWise Marketplace means MSPs should be able to proactively remediate threats across most device fleets. However, it's important to note this security is not inbuilt and, though most of the ConnectWise solutions integrate with Automate, some need to be managed via the partner vendor's separate management console.
Automate also integrates with the ConnectWise Fortify and Recover solutions to provide robust threat detection and response along with backup and recovery capabilities, respectively. These solutions are sold separately to Automate but work well as a combined management and security stack for MSPs looking to keep all of their products with one vendor.
Summary: N-central allows MSPs to seamlessly and proactively detect and respond to threats across their clients' networks via powerful, inbuilt EDR capabilities. Automate doesn't have inbuilt security features but provides MSPs with the ability to partner or integrate a wide range of third-party security solutions, or to create a comprehensive management and security stack by investing in and integrating with the ConnectWise Fortify and Recover solutions.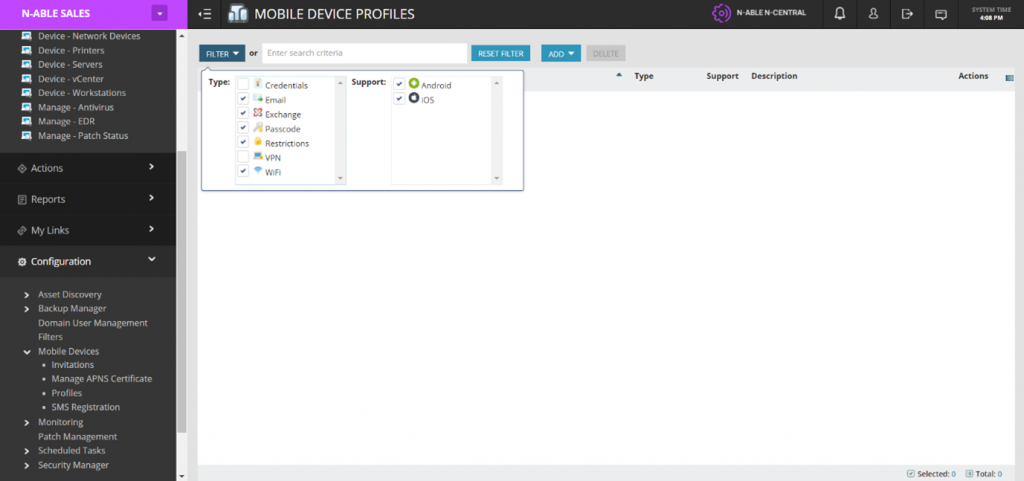 Final Summary
N-central and Automate are both market-leading remote monitoring and management solutions. They both offer a robust feature set that enables MSPs to better manage, monitor, and secure their clients' networks from any location, while helping those clients benefit from best-in-breed protection and risk mitigation at a fixed cost.
ConnectWise Automate is a powerful RMM solution delivering robust capabilities that enable MSPs to effectively monitor, manage, and support the network health of their clients and prove their value to those clients. Its tight integrations with the other solutions from ConnectWise make it a strong RMM platform for existing ConnectWise customers, and its partnership with IBM MaaS360 enables ConnectWise to provide mid-market MSPs with powerful MDM capabilities. However, while Automate is a strong solution for small to medium-sized businesses (SMBs), it lacks some of the security capabilities that larger enterprises may seek in an RMM solution.
N-central offers a comprehensive selection of management and security tools via one user-friendly interface, making it an ideal solution for larger businesses looking for maximum protection across their remote or hybrid device fleet. However, N-central isn't just suited to providing RMM at an enterprise level—its powerful automation capabilities and user-friendly scripting support mean that SMBs, who often have less dedicated technical resources, can also leverage the platform's powerful insights and threat protection. If you're looking for an RMM platform to help you manage and secure your clients' networks, N-able N-central is a strong solution to invest in.
We recommend all MSPs looking to invest in a remote monitoring and management solution consider exactly what it is they need from their solution, and trial any products before buying.