Managing customers' devices and network health has never been a bigger challenge than it is today. Sophisticated threats coupled with a rapid move to remote working has led many organizations to use the help of managed services providers (MSPs) to oversee their devices, networks, and security.
Unsurprisingly, the global MSP market is expected to grow by 10% in the next few years, as MSPs expand their client base and more IT support businesses look to move to managed services provider status.
What Is N-able N-central?
N-able N-central is a comprehensive remote monitoring and management (RMM) solution that enables MSPs to easily manage client devices, servers, and networks from a single management console. The N-central solution provides in-depth remote monitoring capabilities and a powerful set of advanced features, including automated policy management, custom integrations, and endpoint detection and response (EDR).
N-central is built for scalability and ease-of-use. It provides one dashboard to manage customer sites and their related services, advanced antivirus security, remote support capabilities, workflow automation, and a range of alerts to help MSPs better support clients—all critical requirements for growing MSPs.
N-central automatically discovers and deploys agents to devices MSPs want to manage, and with a variety of default out-of-box device management templates monitoring, users can get started quickly. To get fully configured and trained, the N-able on-boarding team is available at no additional charge or as long as the MSP is a partner.
Backup and recovery are fully integrated into N-central to help MSPs protect customers from data loss incidents.
Once N-central is deployed, technicians can remotely manage and secure a myriad of devices. Windows®, Mac®, and Linux® devices are fully supported of course, but virtually any device that can be connected through SNMP can be discovered and monitored.
N-able has a partnership with Cisco® Meraki® and offers automation scripts that make it simple to maintain Meraki switches, routers, or Wi-Fi devices.
Additionally, cloud-based virtual machines can be discovered and monitored, as well as cloud storage services like Amazon Web Services®, Google Cloud Platform™, and Microsoft Azure®.
Even devices under management by other services can be viewed and managed in N-central. Through a collaboration with Microsoft, N-central users can discover and add Microsoft Intune® devices to their N-central dashboard. Intune policies can be configured from within the main N-central dashboard and propagated to all of a customer's devices. MSPs can remote into the Intune devices if needed and generate reports that include devices from both monitoring solutions.
Security is built into N-central with features like automatic installation of antivirus updates, and important security patches. Patching can be fully automated and done for the main supported platforms and third-party devices as well. Additional integrated security products can be added such as N-able Endpoint Detection and Response (EDR), powered by SentinelOne®, or DNS filtering, powered by DNSFIlter®.
Available as both a hosted or on-premises solution, N-central is designed to help manage complex networks and devices with ease, saving resources without compromising the security or customer experience of your clients.
N-able N-central Features
Monitoring And Management
N-able N-central allows for extensive monitoring and management of a tremendous variety of devices and networks. MSPs have full visibility into the health and configuration of Windows, Mac, and Linux workstations and servers, and can troubleshoot support issues with a robust set of diagnostic tools built into N-central. Or, MSPs can use the included Take Control remote support tool to connect to the device, get a clear view of what the user is seeing, and access an even deeper set of remediation tools.
N-central provides the ability to set up thresholds that activate a variety of alerts or notifications, letting MSPs know of potential issues before they become critical. They can detect when a device is not configured properly, has not been rebooted or backed up recently, or is new to the network and not currently under management.
Remote Support
The N-central remote support feature, Take Control, allows MSPs to access devices in their managed networks with the click of a button. They can remotely connect to clients' systems with the user present, use live chat to communicate, or access machines in off hours to perform maintenance and apply patches while the user is away.
The Take Control remote viewer offers a vast array of system information about the remote machine—disk health, drivers, apps, Windows updates, drag/drop file transfer, to name a few—so everything the tech needs to diagnose issues is close at hand. The built-in command line performs virtually identically to the one in the machine itself for probing and running PowerShell® scripts, and a handy remote registry editor is available right in the viewer.
The viewer offers a crystal-clear view of the user's screen and allows technicians to easily switch between monitors. By adding N-able Passportal™, technicians can securely unlock machines without seeing the actual credentials being used.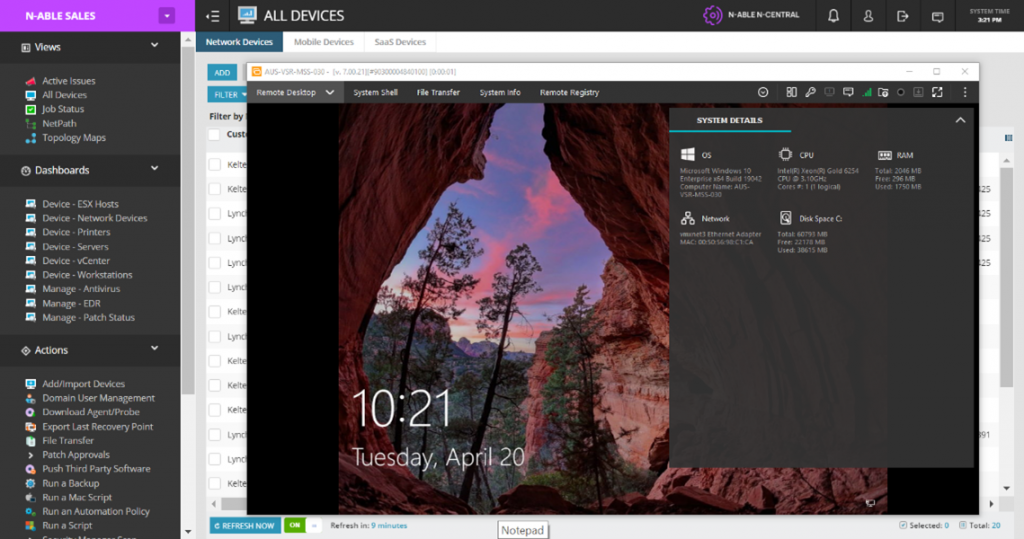 Network topology mapping in N-central allows MSPs to automatically discover and map entire networks, creating detailed interactive overviews. View an entire network and connections, and interactively zoom into any section, or even into one specific device. This helps MSPs literally see the lay of the land and how devices are connected to one another.
Once the network map has been implemented, MSPs can schedule automated scans that will pick up new devices and endpoints connected to client networks, helping to ensure new devices are audited and added to networks.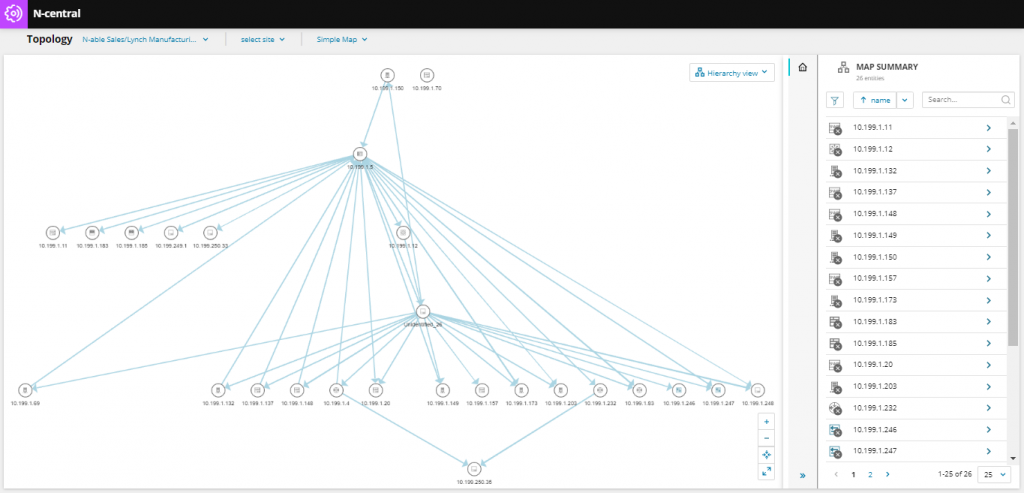 When configured, MSPs can use topology mapping to quickly locate and troubleshoot any issues across the network, as well as monitor clients for any changes in routing. These maps can also help highlight areas that may pose a risk in meeting regulatory compliance measures.
For mobile devices, N-central provides a comprehensive mobile manager. This makes it easier to onboard mobile devices, but it also makes them much easier to manage and monitor. Key features include application controls, remote mobile device wipes, and remote system management—including configuring system settings and resetting passwords. The mobile manager also provides comprehensive reporting, and the ability to locate lost or stolen mobile devices.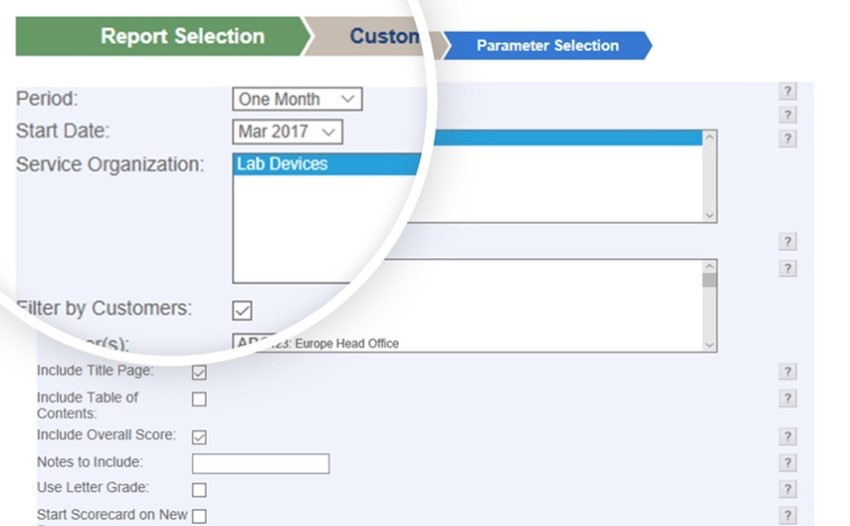 To help MSPs to take advantage of the wealth of data the platform gathers, N-central also offers a report manager feature. MSPs can create reports to show high-level overviews of clients' networks, assessments of their infrastructure to use in sales conversations, device management reports, and reports into support issues and security risks users have been exposed to.
These reports are useful for MSPs to leverage across the sales cycle and in ongoing management of clients. There are several prebuilt reports within the N-central dashboard that can be customized and exported to different file formats with the MSP's own company branding applied.
Automation
Virtually any workflow an MSP does again and again should be automated to reduce labor time (and frustration) and increase efficiency. Automation scripts can be created in N-central and set to run when activated or triggered. For example, if the system detects a hard drive getting dangerously full, it could trigger a script that automatically deletes temp files before the machine and user are in trouble. When a software update is needed, such as security patches, scripts can be built to apply those patches to all relevant machines without staff intervention.
But many RMM solutions require staff members to have a deep knowledge of scripting languages like PowerShell or to learn a proprietary scripting language to create these kinds of labor-saving scripts. N-central has a drag and drop script creation module called Automation Manager that enables MSPs without any coding knowledge to build robust and complex scripts by literally dragging and dropping objects into the scripting engine.
N-able also offers an Automation Cookbook in its Customer Success Center that offers hundreds of pre-built scripts MSPs can grab and use as they like. Many were built by the N-able Head Nerds and are huge time-savers, such as scripts that activate self-healing routines to automatically resolve issues without tech intervention.
N-central also offers the ability to set up granular rules—very specific policies that can be built for individual or groups of devices. For instance, an MSP could set a rule around special machines, like the workstations used by the C-level customer executives, to ensure any alerts receive immediate attention when they arise.
Security
N-central provides a range of enterprise-grade cybersecurity features going well beyond basic antivirus that allow MSPs to protect clients against sophisticated threats.
N-able Endpoint Detection and Response (EDR), powered by SentinelOne,is integrated into N-centraland helpsprotect clients against ransomware, zero-day attacks, and evolving online threats. With EDR, MSPs can detect and respond to a wide variety of cyberthreats. N-able EDR performs real-time file analyses, and uses multiple artificial intelligence engines to provide rapid analysis of potential threats, even when devices are not connected to your network. Processing of threats is done on the endpoint, with no cloud upload required.
The Integrated EDR feature in N-central allows MSPs to monitor endpoint security alerts and set custom policies for the specific needs of each client. These security policies are easily deployed for one or many endpoints, and they offer automated responses to detect, kill, quarantine, remediate, and roll back (Windows OS only) threats without human interaction. This includes a disconnect from networkpolicy that quarantines affected devices from the rest of the network.
The system provides advanced threat insights and forensics, with at-a-glance reports for device status. MSPs can view a timeline of the attack, helping identity the vulnerability or point of breach, allowing them to take steps to help their client stay protected in the future.
For Windows devices, N-central provides a strong level of protection against ransomware, with a rollback feature that can identify compromised files and restore them to a pre-attack state. EDR is fully manageable within the N-central management console.
Several separately purchasable products can add even more layers of security, including N-able Mail Assure, a comprehensive email filtering solution that provides powerful inbound and outbound email filtering for your clients. Mail Assure protects against spam, phishing, and many other email threats, and can even easily bolster the native email security of Microsoft 365™.
N-able also offers a password and documentation management solution called N-able Passportal. With Passportal, MSPs can implement password management policies, access control, and improve operational efficiency with a centralized repository for documentation, standard operation procedures, technician notes, and much more.
Patch Management
N-central offers patch management, which helps MSPs keep applications and operating systems reliably up-to-date and secure. N-central provides a centralized way to deploy Windows 10 feature updates across client devices. MSPs can configure policies to patch hundreds of endpoints, all from the N-central dashboard. Patching can be fully automated, with the ability to set up test groups to ensure the updates are working correctly before customer machines are updated.
N-central patch management goes beyond operating system updates by also covering third-party applications, including Adobe®, Java®, and browsers. And N-central provides comprehensive reports within the patch management console to provide an overview of completed patches.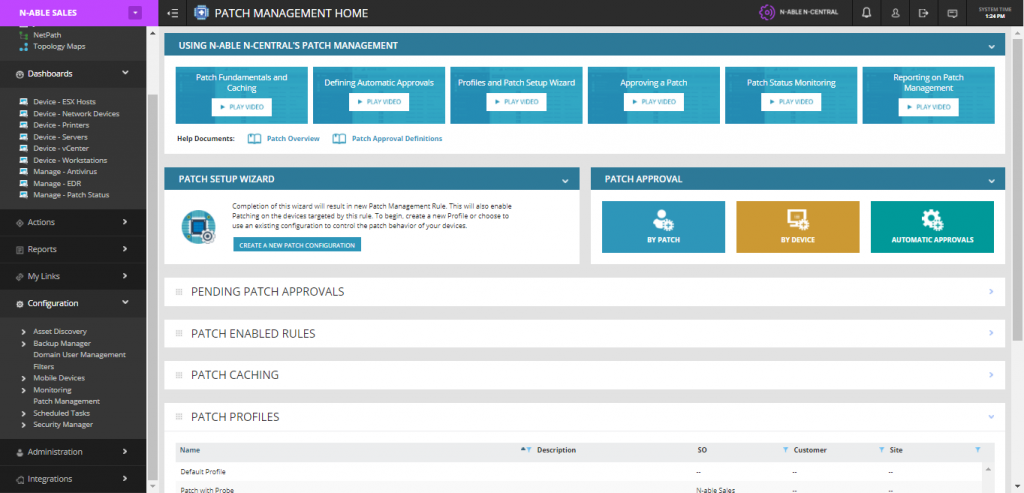 Integrated Backup
N-central integrated backup provides an enterprise-grade data protection solution to help safeguard clients against data loss and downtime. Backup is based on cloud-first architecture, which allows MSPs to quickly back up and restore files and full systems. Backups for all the customers' physical and virtual servers, workstations, and Microsoft 365 data are managed from a single dashboard. Backup storage in the N-able worldwide private cloud is included in the solution price, and AES 256-bit encryption helps secure data in transit and at rest. Partners can use their existing network share or the storage hardware of their choice to keep an optional local copy for even faster restores.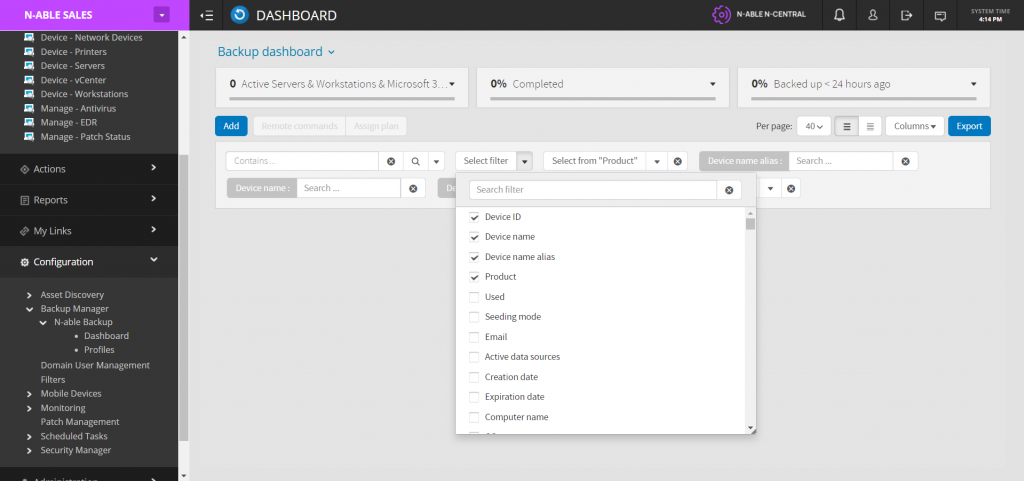 Partnerships
N-able partners use a wide variety of tools to provide their IT services, so the company has relationships with many leading technology vendors, making the N-central dashboard a single central point for monitoring all devices. For instance, N-central integrates with Microsoft Intune, a component of Microsoft 365 Business Premium. With this integration, partners can discover, then monitor and manage Intune-managed devices from their N-central dashboard. This allows them to maintain consistent policies and configurations, see alerts, and create consolidated reports without leaving their dashboard.
N-central also partnered with Cisco Meraki to provide MSPs with easier monitoring and alerting of Meraki devices through a plug-and-play monitoring bundle at no additional cost. With this integration, MSPs can use a variety of custom services that provide metrics like bandwidth, device connectivity, security alerts, port status, appliance uplink status, and more. This helps improve the security of devices and makes the support process even easier—it gives you more time to take care of clients, rather than spending your time in dashboards.
N-able Onboarding And Support
N-able provides a range of technical assistance and support options to help MSPs learn how to best use N-able solutions and how to scale their businesses.
The N-able Head Nerds are central to this effort. This team of experts help offer educational resources and trainings to N-able partners, focusing on key areas such as automation, backup, business and marketing, monitoring, operations, and security. The Nerds run boot camps and hold office hours to help MSPs learn more about how to leverage N-central and other products to provide comprehensive IT support to your clients.
In addition to the Head Nerd team, N-able offers award winning support from our worldwide team of customer support specialists. This team is ready to answer your support questions and resolve issues 24 hours a day, seven days a week, all included with an N-central subscription.
The N-able Customer Success Center is the home of N-able support. MSPs can manage their support cases, view resources about all N-able solutions, and learn about upcoming events, including partner meetings, industry events, and webinars.
MSPs can access N-able forums, where they can ask questions, submit feedback, and chat with other N-able customers—as well as share ideas to grow their businesses and better support their clients.
Housed within the N-able Success Center is the N-able Institute, an educational portal that offers free courses on business and marketing best practices, product training, security topics, and much more. Almost 19,000 individuals have taken advantage of the 213 courses offered in the Institute, giving the courses average ratings of 4.7 out of 5 stars. Along with the courses, the Institute offers many downloadable templates and calculators you can use to boost your business.
The company also hosts an ongoing series of informative webinars that cover a plethora of topics, providing information and training for MSPs from leading industry experts—all designed to help partners grow their businesses. These webinars cover topics such as, How You Can Build and Improve Your Sales Processes, Managing Client Relationships, and Tips on How to Improve Your Marketing and Brand Awareness,and we even host events with partners like Microsoft on Microsoft 365 security topics.
Customer Testimonials
Customer testimonials showcase how N-central can become an integral tool for its users, supporting business growth and making it more efficient to manage and support your clients.
One MSP based in Melbourne, Australia, describes how N-central is perfectly suited to growing mid-sized organizations, supporting their advancement, and helping them tackle support and scaling issues that can present problems for MSPs:
N-central is also a perfect solution for established MSPs looking to improve the effectiveness of their security processes. The below case study highlights how N-central can make it easier for your team to support your clients and resolve issues quickly:
N-central is highly rated by its users. Customers praise the service for its flexibility, automation features, continuous product updates and new feature additions, advanced backup features, and help desk monitoring capabilities.
---
"N-able has given us the ability to increase revenue and provide top notch support for our clients. Many of our clients are routinely audited. Since they have signed with us, passing patching, Microsoft, and third-party audits are getting through.
We are finding the reporting and alerting features to be very useful. Reports are easily created and shared with our managed clients. The connection to our PSA ConnectWise® helps us create tickets automatically that otherwise may have gone unnoticed."
– Small Business IT Administrator, G2 Crowd®
---
N-central is often recommended on the Reddit MSP forum, with numerous threads highlighting the number of third-party integrations N-central supports, the controls it offers, and it's stellar reporting. This highlights the strong community N-able has built around its solution portfolio.
"I love N-central. Remote control, patch, AV integration, remote cmd prompt, reporting… so many tools that are invaluable."
– Reddit® user, 2020
---
N-able has received a number of awards and recognition from across the cybersecurity industry, including receiving the ChannelPRO SMB Readers' Choice Award and being listed on the CRN® 2020 Channel Chief's List.
Expert Insights has also recognized N-central in their Best-of Awards for Remote Management and Monitoring, highlighting the service for its powerful automation, extensive monitoring capabilities, and effective endpoint detection and response functionality.
Expert Insight
N-central is a market-leading RMM solution, which we would highly recommend to organizations looking for extensive monitoring and management, simplified automation, and powerful security tools backed by comprehensive support.
N-central streamlines customer management—the accessible and easy-to-use admin console acts as a single plane of glass, with complete visibility into device availability, health, performance, security, and backup status. By using remote command lines and custom scripts, you can resolve issues without causing downtime or disrupting end users.
One of the best features of the N-central dashboard is automation manager, which enables MSPs to create automation scripts to remediate client issues using a simple drag-and-drop editor. This can speed up client onboarding, routine maintenance, like patching, and support issue resolution, fortifying your business as you grow and take on more clients. N-able has over 400 automation scripts ready straight out of the box and provides over 600 elements to build automated tasks.
N-central provides comprehensive layered security to help ensure your clients are protected from cybersecurity threats. The N-central EDR feature helps protect your clients against ransomware and zero-day malware attacks, with advanced threat insights and forensics. N-central provides the tools you need to help ensure devices are kept secured and up-to-date with the latest security patches and updates. With the integrated N-able Backup solution, MSPs can help ensure client data is protected in case of downtime or data loss.
N-able has built an extensive support community, from Head Nerd boot camps and office hours that provide training and insight for users, to courses on marketing and customer engagement in the N-able MSP Institute, to a busy slate of webinars exploring how MSPs can grow and scale. N-central is a strong platform for MSPSs looking for a partner as their business evolves.
Expert Insights recommends N-central as a market-leading RMM platform, which we have recognized in our Best-of Remote Monitoring and Management awards. We'd recommend this service to MSPs looking to expand and better support their clients with an RMM platform that offers powerful security, extensive monitoring, and robust automation features.