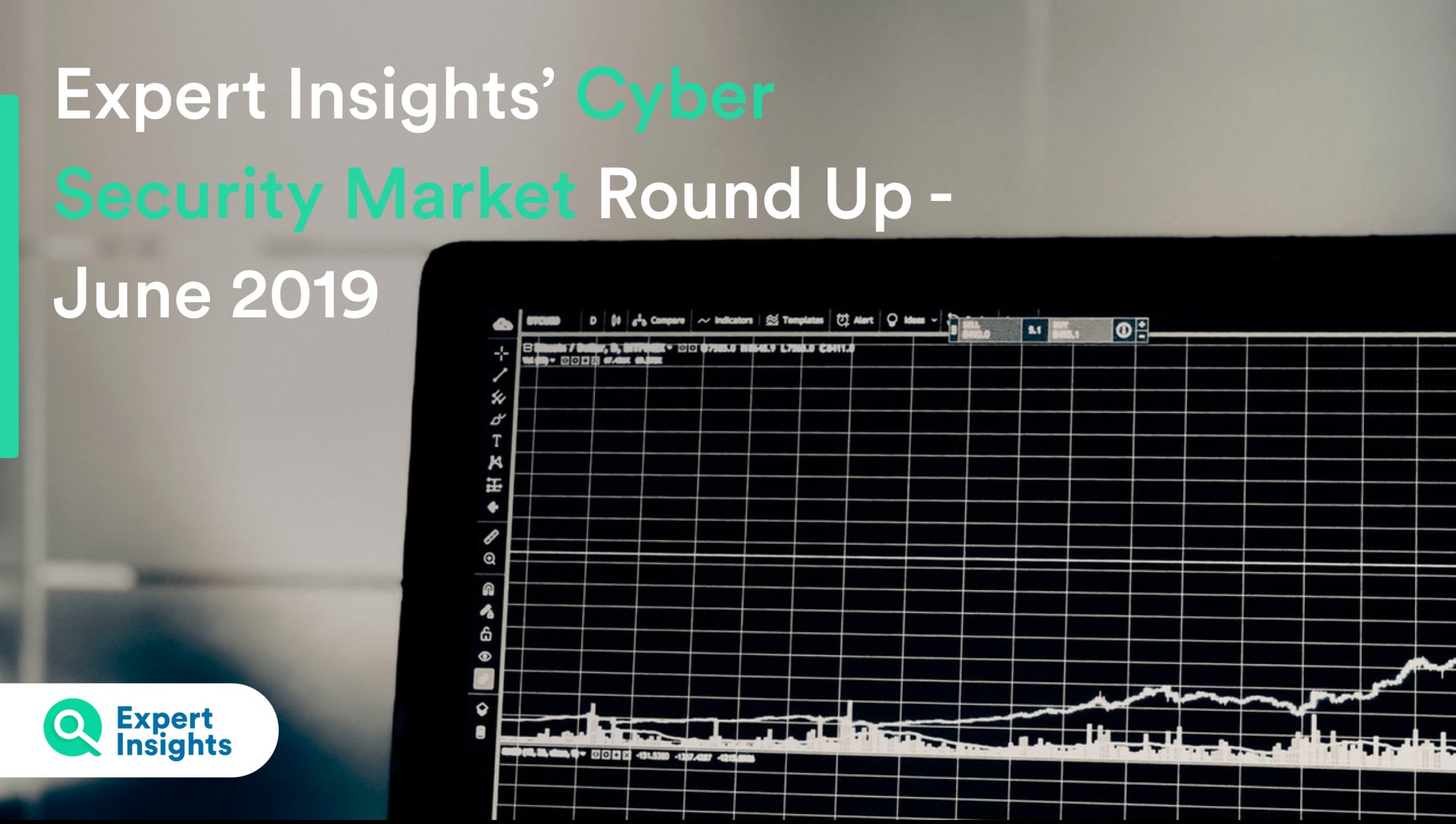 News
Expert Insights' Cyber Security Market Landscape Round Up – June 2019
Expert Insights delivers your monthly roundup of all of the funding and valuations of the top cyber security companies.
Expert Insights / Jun 21, 2019
By Joel Witts
Welcome to your June 2019 Cyber Security Market Landscape guide, from Expert Insights. 2019 is expected to be a big year for cyber security funding, with Gartner expecting $124 billion worth of investment this year. June has seen a deluge of Cyber Security companies announcing news of their funding increases, stock market listings and market valuations. Expert Insights delivers your monthly guides to the cyber security market landscape. We have rounded up the top industry news to give you an easy to digest update to the cyber security market.
This month's updates:
GreatHorn Raises $13 Million to Support Rapid Growth of Its Email Security Platform – June 26th
GreatHorn, an email security platform that protects organizations before, during, and after an email attack, announced it has closed a $13 million funding round co-led by RRE Ventures and 406Ventures, with participation from existing investors including Techstars Ventures, V1.VC and Uncork Capital. On the heels of its third consecutive year of triple-digit revenue growth and rapid expansion into the enterprise market, GreatHorn plans to continue to build upon its position as the innovation leader in the email security space.
CrowdStrike Sees Shares Jump Nearly 70%, Giving It A Market Capitalization of $11 billion – June 12th
CrowdStrike, a Californian based cyber security vendor founded in 2011, went public for the first time in mid-June. They jumped more than 70% on their first day of public trading, closing at $58 per share after having an intended range of $28-$30. CrowdStrike is known for their Endpoint Protection solution, and have achieved strong media coverage for uncovering data breaches within the US Democratic National Committee during the 2016 Presidential Election.
Last year, CrowdStrike was valued at about $3 billion, following a $200 million funding round. After their stock performance, their market capitalisation is now more than $11 billion. This has trumped over other high profile IPOs such as Uber, and has surpassed even other more established cyber security vendors, such as Palo Alto Networks, Mimecast and Barracuda. The firm is now quickly closing the gap with industry titans such as Symantec.
Sales at Crowdstrike have increased hugely over the last year, generating revenues of $250 million for the fiscal year ending 31st January 2019, an increase of almost 125%. However, the company is still not profitable, with net losses widening to $140 million in the same period. The company has stated it's long term goal is to become the 'Salesforce of Cybersecurity products'.
Post-Delivery Protection Vendor Vade Secure Raises almost $80 million to Protect Users from Phishing Attacks and Email Threats – June 12th
French and Boston based Email Security vendor Vade Secure, has accepted a €70 million ($79.3 million in USD) investment from venture capital firm General Catalyst. This follows an initial seed round of €10 million in September 2017. Vade Secure is known for their advanced predictive email defence solution, which stops phishing attacks and targeted email threats. CEO George Lotigier said that the funding will support their market strategy of expanding into North America, Europe and Japan through MSP channels. It will also help them to further develop their machine learning based email threat detection platform. Vade Secure currently protects around 600 million inboxes, with 5000 customers including big names such as Orange, Fujitsu, Comcast and Cisco.
General Catalyst was selected as a good fit for Vade Secure's managed service provider market strategy. GC investor Austin McChord, who will know sit on Vade Secure's board of directors, previously founded Datto in 2017, a firm which followed a similar MSP strategy to huge success. He has said he feels the automated protection and immediately deployable solution Vade Secure offers makes it a perfect fit for MSPs. Lotigier has also pointed out the company's unique opportunity to "capitalize on the market disruption caused by the industry shift from on-premise hosted email to the adoption of cloud-based email platforms."
ValiMail Raises $45 million to develop it's Email Protection Platform – June 19th
Californian based Start-up ValiMail has raised $45 million to develop their automated email authentication solution. They provide a one-click solution for DMARC enforcement to protect organizations from phishing attacks, as well as increasing email deliverability. The $45 million investment they have recently announced is their third round of funding from Insight Partners, a private equity firm. Launched only in 2016, the firm had already raised around $39 million in funding. With this extra injection of cash, they plan to 'acclerate the expansion of their products" grow it's partnerships further, and expand globally.
ValiMail CEO and Co-Founder Alexander García-Tobar said that the new investment would allow them to continue to make "enterprise email trustworthy, both for inbound and outbound messages." Insight Partners VP Thomas Crane said that 'it's clear that other email security technologies have not solved this global problem [of phishing attacks]. Valimail's trust layer represents a better approach to solving this crisis.
IronScales, Phishing Protection vendor raises $15 million for AI Powered Phishing Protection – June 17
Another email security vendor with an advanced solution to block phishing attacks, has also announced a funding increase this month. Ironscales, an Isreali and Atlanta based vendor has developed an email protection solution focussed on protecting against phishing attacks, using machine learning algorithms. IronScales also provide security awareness training, alongside their technological solution. They have now revealed an extra $15 million of series B funding, led by firm K1 Investment Management. This brings the total funds raised by the company to over $25 million.
IronScales CEO Eyal Benishti, has said that this round of funding will be used to expand IronScales operations in the United States, which has a large growing market for cloud based email security solutions. IronScales has seen strong growth over the last year, with triple digit growth and ten times revenue growth in the US. It's customer base is growing fast, with a customer base now just under 1000, mostly from financial services, health care, retail and education. IronScales has company offices across Israel, Europe and North America. Using this funding, they plan to double their headcount over the next few months, and further develop their platform.
Security Awareness Training Vendor KnowBe4 raises an additional $300 million, in a deal that values that company at $1 billion – June 12th 2019
Floridan based KnowBe4 is the world's largest Security Awareness Training vendor and simulated phishing protection platform. Three months ago, they announced private equity firm KKR had given them an initial $50 million investment. Now, they have an additional $300 million investment for the growing company. This extra injection has now increased the firms value to $1 billion, giving it 'unicorn status' as a privately owned company.
KnowBe4 was founded back in 2010, by Stu Sjouwerman, who also founded Sunbelt Software in 1993. He has said this round of funding means the company can set its sights on Japan. KnowBe4 has existing offices in the UK, US, Germany, the Netherlands, South Africa and Singapore. It's also about to open offices in Australia and Dubai. Shouwerman said that the companies $1 Billion valuation illustrates how damaging threats like phishing attacks are to businesses.
Threat Intelligence Vendor Recorded Future Sold to Private Equity Firm for $780 million – June 1st 2019
Recorded Future, a growing cyber security vendor known for it's Threat Protection solution has been sold to a private equity firm for $780 million. Insight Partners had previously owned a minority share in the Massachusetts based firm, but has now become it's sole private owner after the cash buyout.
Recorded Future is one of the largest privately owned threat intelligence vendors in the world, with over 400 customers worldwide. They plan to use the resources of their new owners to 'further their technological and product vision' with a range of new activities.
Vectra Gets $100 Million to Grow It's MSP Market Strategy – June 10th
Vectra, a cyber security vendor which uses AI to help organization's hunt for cyber attackers. Vectra's Cognito platform provides 360-degree visibility into cloud, data centre, user and IoT infrastructure. They have recently closed a second round of funding, after raining $100 million, bringing their total amount raised to $200 million. The funding was raised by TCV, a growth equity firm. Vectra has seen revenue double in the past few years, making it a prime time for the company to seek investment.
Mike Banic, the Head of Marketing at Vectra, has said that this round of funding will go into improving the companies go-to market efforts, which will benefit their channel partners. "We are investing in demand-generation with partners, partner enablement and development of partner-delivered services," he said. "One-hundred percent of our revenue is through the channel and this will continue to be the case."
---
About Expert Insights:
Expert Insights is an independent review platform for Cyber Security services. They offer to readers detailed and meticulously researched product information written by industry experts, and independent end user reviews. This helps customers looking for cyber security services make an informed buying decision.