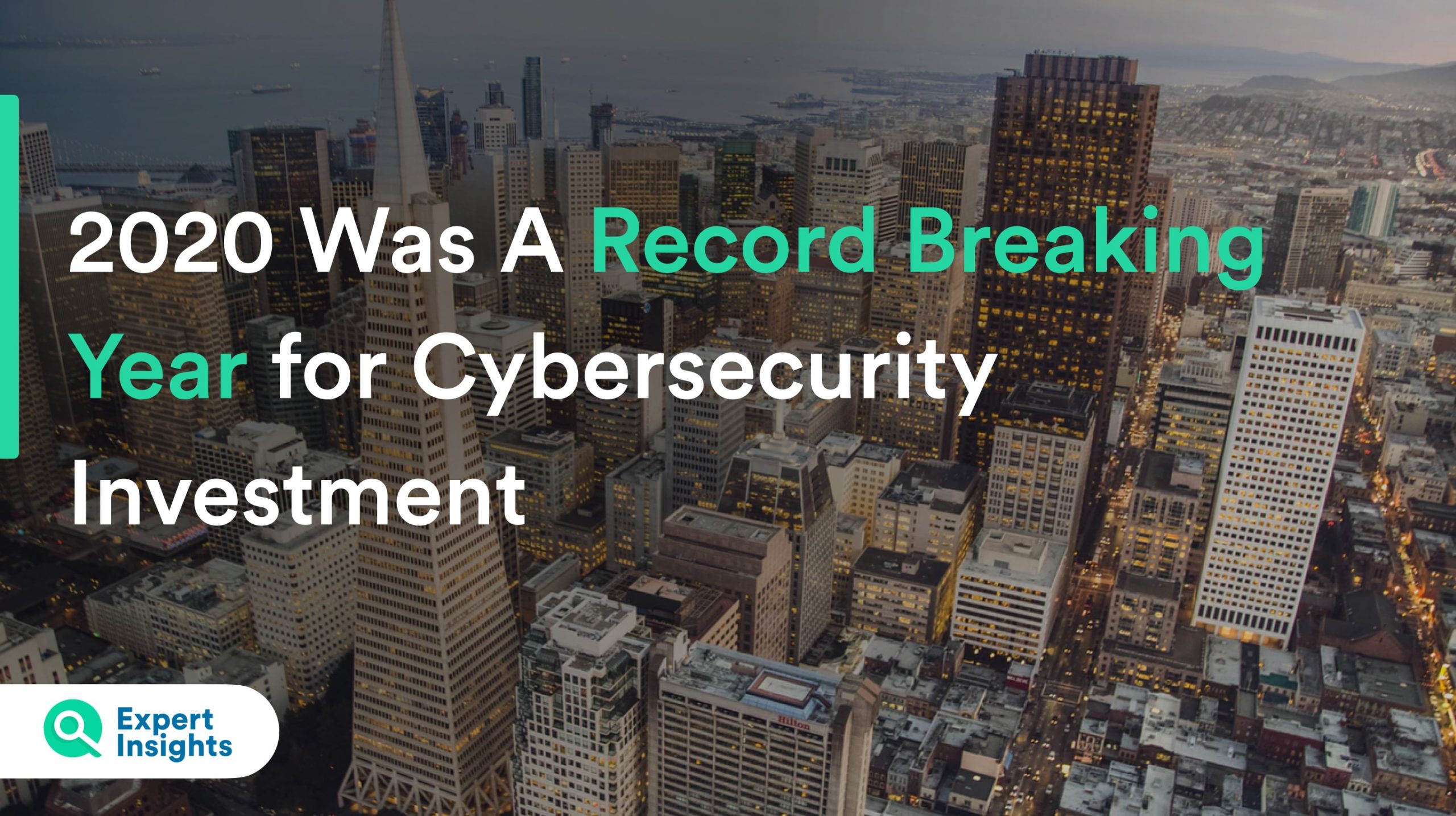 Blog
Cybersecurity Sees Explosion In Investment Over 2020, Fuelled By The Pandemic and High-Profile Attacks
A new report has found that 2020 was a record year for cybersecurity investment, fuelled by the pandemic, the move to the cloud, and increasingly sophisticated threats
Expert Insights / Apr 16, 2021
By Joel Witts
2020 was a record year for investment in cybersecurity companies with $7.8 billion USD invested according to a new report from analyst firm Crunchbase. 2021 is expected to be even bigger still – with over $3.7 billion already invested globally.
The report found that the over 2020, there were a record six new cybersecurity unicorns with valuations over $1 billion USD – but this has already been eclipsed, with a staggering 9 unicorns emerging just over the past 4 months of 2021.
The need for strong cybersecurity solutions has arguably never been more acute. The global pandemic put unprecedented pressures on businesses to support remote working. Cybercriminals smelled blood, and a deluge of coronavirus-related phishing attacks appeared to take advantage of the global crisis.
In addition, there have been a huge number of high-profile cyber-attacks over the past 12-months, including the devastating SolarWinds breach which affected many organizations in the US and around the world, and more recently the Microsoft Exchange server attack, which put thousands of smaller businesses squarely in the sights of cybercriminals.
Unsurprisingly, this has caused a huge demand for cybersecurity services; many of whom have spent the last several years warning users about the insecurities in cloud-technologies, and the need for robust technologies in place to support remote working.
Over the course of the past year, there have been a number of company mergers and acquisitions, new product launches and a number of new cybersecurity start-ups emerging onto the market to take advantage of the increased demand for cloud-based security technologies and remote work solutions.
But cybersecurity has long been a hot area for investment. According to Crunchbase, since 2017 about 1,500 cybersecurity companies around the world have received venture funding and have not yet exited – about 58% are seed-stage, 32% are early stage and 10% are in late stage. 2019 saw cybersecurity investment really take off – with $7.6 billion invested, a 44% increase since 2018.
The largest deal of the past year was a $340 million Series G round of funding for Netskope, a cloud-cybersecurity provider that enables real-time data and threat protection. As the report states, there were a total of 15 rounds of $100 million-plus raised across the globe in 2020.
US Is The Global Hotspot – With Israel Taking Second Place
The United States took the number one spot for cybersecurity investments, accounting for over 75% of cybersecurity venture funding. The US saw a big growth in investment in 2020 – with a 22% investment increase "significantly greater than the 15% growth of the overall U.S. venture market," as the report states. 48% of this investment was concentrated in California – with a staggering 94% of this concentrated in companies in the San Francisco Bay area.
The second top venture funding hotspot was Israel, which accounted for 13% of investments and saw a huge 65% increase in investments since 2019, numbers Crowdstrike expect to continue to rise over the next few years. Israel have long been a global leader in cybersecurity solutions, boasting a number of innovative start-ups that have attracted large investments. Around 80% of their investments were for companies based in Tel Aviv.
The United Kingdom was the third biggest overall hotspot for cybersecurity investment, capturing over $262 million in 2020, boosted by some high-profile cybersecurity companies such as Darktrace, known for their AI powered cybersecurity solutions.
The top 10 investors in cybersecurity solutions are all based in the US. The top three investors last year were Accel who invested in 21 companies, Insight Partners who invested in 17, and Techstars who invested in 15.
You can read the full list of investors here.
Unicorns In 2020 And 2021
Six cybersecurity companies achieved 'unicorn' status in 2020 and were valued at over $1 billion dollars. Five out of the six were based in the US, with one based in Israel. The companies were: Snyk, an application security developer, SentinelOne, a popular endpoint protection solution, Verkada, who manufacture physical security hardware and software, Arctic Wolf, a threat detection and response solutions, Cato Networks, an SD-WAN provider, and BigID, a data intelligence company.
Incredibly, 2021 has already seen nine new cybersecurity unicorns emerge, smashing the 2020 record. These companies are Armis Security, Coalition, Wiz, Ownbackuo, Axonius, Socure, Orca Security, Lacework and Aqua Security.
What Can We Expect In 2021?
Cybersecurity is one of the hottest markets around right now, and there is little sign of anything changing soon. High profile attacks continue to dominate the news cycle, and cybersecurity risks will be a high-priority for many organizations as we enter the hybrid office/remote workplaces of the post-pandemic world.
Read the full Crunchbase report here: https://about.crunchbase.com/cybersecurity-research-report-2021/